Through an artist's music alone, sometimes we can understand much more about his perception of the world than what transpires from his songwriting and attitude towards art. Artists with a strong sensibility and unique ability to capture the reality around them and translate it into powerful melodies and lyrics have a rare gift nowadays. Mahdi Khene, through his music, reminds us to take the time to understand ourselves through art. Today, at Planet Singer, we have the great pleasure of listening to his latest album, "Don't Say A Word," eleven songs that you wear like clothes, and that fit perfectly those who listen with an open heart and clear mind.
Mahdi Khene is a talented musician, singer, songwriter, composer, and creative born in Algiers and relocated with his family to New York City when he was one year old. Gifted with an instinct for music, Mahdi started playing the guitar at the age of 14. Since then, he shaped his sound, incorporating vibes from genres such as Folk, Funk, Rock, Blues, and many others in a classy and sophisticated way, creating his own sound. Based in Brooklyn, he gives freedom to his artistic creativity performing his music and composing original scores for documentaries and films.
"Don't Say A Word" is Khene's 4th release after the six-track self-titled Ep released in 2018, and the two 2019 albums "A Little Time" and "Something Like That," brilliant releases that mark essential stages in this talented artist's musical journey. "Don't Say A Word" is a great release where we can feel Mahdi's attention to detail while still keeping a natural flow of the melodies and harmonic architectures. Sophisticated and intriguing, the album develops naturally with eleven tracks that flow smoothly one after the other, like chapters of a captivating novel.
The album starts with the exciting rhythmic crescendo of "Gotta Get To Ya," and its retro vibes reinvented in a modern flair. The rock-oriented "Sensitive Bone" and the contagious groove of "Locked Down" follow straight after, catapulting the listeners in this musical journey fully. In the album, we can appreciate excellent tracks such as "Sense," the experimental arrangements of "Corona, Lemme See My Baby," the superb title track "Don't Say A Word," the fast-paced and engaging guitar riffs of "Sweet Thing," and the beautiful and delicate ballad "Don't Ya Get Down Too?" which closes the circle in the best way possible. "Don't Say A Word" is one of those albums you listen to all in one breath and need to play several times to discover every single detail. Mahdi Khene showed his creativity and artistic maturity once again in one of the best albums of 2020, and we can't wait for his next release!
Check the links below, discover more about Mahdi Khene and his music, and don't forget to add his tracks to your favorite playlists!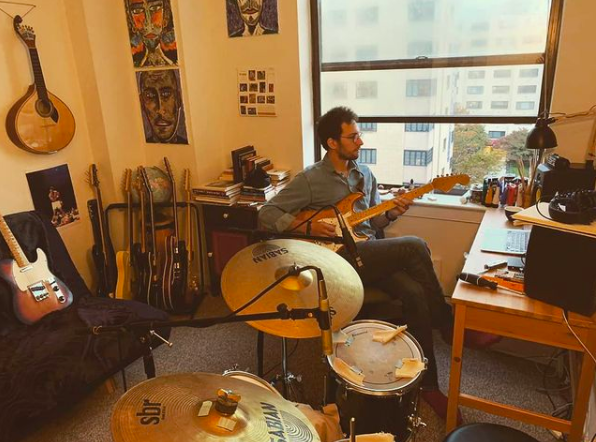 Bio:
Mahdi Khene was born in Algiers. At the age of one, he moved with his family to New York City. He started playing the guitar at the age of 14. He attributes his songwriting style to having been a self-taught musician. A troubadour at heart, he has been traveling from place to place, spending time in Maryland, D.C, Paris, Barcelona, Berlin, and Virginia only to make a full circle and find himself back in New York where he performs his latest Folk/Rock albums and composes original scores for films and documentaries.
Learn Singing, Piano and learn how to MAKE MONEY with your Music! Check these out!