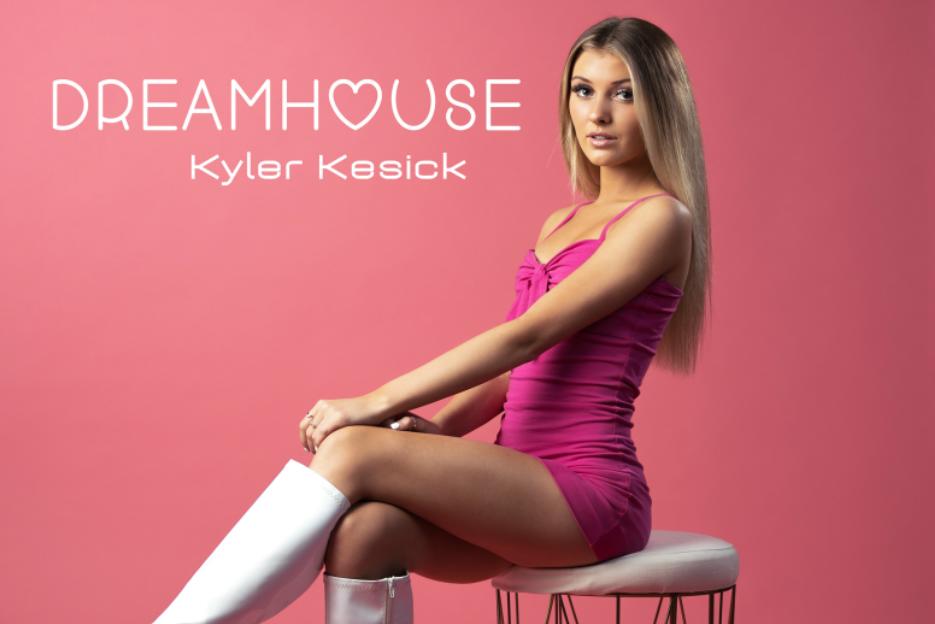 Kyler Kesick's new single "Dreamhouse" is OUT NOW!
After the incredible official debut, with the exceptional song "Us Again," feat Mackenzie Sol, Kyler Kesick is back with another outstanding and catchy track to prove once again she's got what it takes to make it in the crazy world of the music industry!
Today, at Planet Singer, we have the great pleasure of listening to her latest single and discovering more about this talented artist with an exclusive interview!
Hi Kyler, it is such a pleasure having you with us today at Planet Singer. Your latest single is fantastic and shows not only your incredible talent but also your artistic maturity and potential as an artist. So, let's start from the beginning; how did you discover your passion for music?
Wow, thank you so much! I'm so excited to be here. I've had a love for music for as long as I can remember but really found my passion for singing and songwriting about a year ago. In August of 2020, a friend of mine brought me to LA for a studio session to see if it was something that interested me. I absolutely loved it and immediately knew that it was something I wanted to continue doing for the rest of my life. The experience of creating a song that has never existed before, from the beats to melodies to lyrics – was something I can't even put into words. It made me feel alive.
Fantastic, and I have to me say your latest single, "Dreamhouse," is such an incredible track! Can you tell us more about it?
Oh my gosh – thank you! Dreamhouse was such a cool project to work on. It was so fun to write, and I have the best team! I loved the creativity of coming up with the storyline for the music video and then going to Malibu to film it! I had such an amazing time! It was an experience I will never forget!
Your songwriting is truly unique. Can you reveal what your creative process is? How does your music come to life?
I love to come up with stories that I feel like other people might relate to. I don't really have a lot of personal life experience because I am only 17. I have never been in a relationship or had my heart broken, but I like to pretend. I think my music and content will grow as I do. I'm excited for the new music coming as I evolve as an artist and mature as a person.
Many artists are able to write their lyrics first as a poem and then add the music afterward. I've found that I prefer to write the lyrics once I'm inspired by the music. It's just a personal preference, I guess.
How is it like to work with talented sound engineers Josh Connolly and Jake Magness?
It is so fun! Working with my team has been one of my favorite things about starting on this music journey. Both Josh and Jake are so talented and have so much knowledge and experience to share with me. From writing to recording and just general advice about the music industry as a whole. They have so many cool stories about the talented artists that they have worked with. I feel so very lucky to be able to work with such fun and talented people who have created such amazing music for so many artists I admire.
Are you planning any gig or live streams anytime soon?
I actually have my very first show tonight! It is a brand new event called Rebirth Vegas. I've always loved performing, so I'm super excited to have this opportunity to sing my songs and perform live!
I am currently preparing a regularly set schedule to go live on both Instagram and TikTok. I have gone live on TikTok a couple of times already, and I absolutely love interacting with everyone and learning more about who they are, where they're from, and what they would like to hear from me in future songs. Sometimes I even take requests and sing. It's so much fun. Stay tuned for announcements of a set scheduled "Livestream show."
Your first single, "Us Again," ft. TikTok influencer Mackenzie Sol was released last May. Can you tell us more about this fantastic track?
"Us Again" was the song that I wrote together with Mackenzie Sol and Ray Goren at my first studio session in LA! After recording the demo, I came back to Vegas, and my friends and I would listen to the "Us Again" demo all the time. It was super catchy and always stuck in our heads.
I then met Josh and Jake and recorded eight brand new songs at Studio A. We were planning their release when we came up with the idea of recording Us Again with Mackenzie and having it be my first ever release! It just felt right to release this song ahead of the others, as it truly was my very first project.
Writing with Ray and Mackenzie was so helpful and an amazing experience for me. Recording the very first song I ever worked on was an experience I will remember forever. I feel so lucky to have worked with such experienced and talented people as I'm just getting started on my music journey.
Where do you find your inspiration?
I find my inspiration through artists that I look up to! I've always been a huge fan of Miley Cyrus, Selena Gomez, Demi Lovato, and Ariana Grande's music growing up. They are such great artists. Once I started doing music myself, I became inspired by artists I felt were similar to me, like Madison Beer, Olivia Rodrigo, and Tate Mcrae. Not only do I love listening to their music, but they are such amazing performers and so fun to watch live. I feel like the same people who enjoy their music might like mine. I'm totally inspired by their ability to connect with their fans and engage in a way that I can only hope to in the future.
If you could collaborate with one of the artists who inspired your music, who would you like to share a song with?
I would love to collaborate with Tate McRae! She is my biggest inspiration and such an amazing writer. I would be honored to share that experience with her.
What are your plans for the future?
I hope in the future I can move to LA, keep working on my music, and create opportunities to collaborate with some of my favorite artists, producers, and writers. I'm working on new music now and can't wait to continue releasing music and performing live. I'm hopeful that my supporters enjoy my new music and follow my journey as I'm just getting started!
Kyler, it was such a pleasure having you with us today, and we can't wait for your next release! Is there anything you would like to say to our readers?
Thank you so much for having me!! My next release will be on October 8th. It's one of my absolute favorite songs called "Stay." You guys are not going to want to miss it! We filmed a music video that will come out on my YouTube at the same time the song is released.
If you would like to keep up with me and join my journey through music, you are welcome to follow my socials
Instagram: @kylerkesick
TikTok: @kylerkesick
Facebook: Kyler Kesick Music
YouTube: Kyler Kesick.
You can also check out my website kylerkesick.com to learn more about me, find out about any scheduled live events and performances, and find some sneak peeks and behind-the-scenes footage.
Thank you again for giving me this opportunity to speak with you. I hope we get a chance to do this again.
Check the links below, discover more about Kyler Kesick and her music, and don't forget to add her tracks to your favorite playlists!
Learn Singing, Piano and learn how to MAKE MONEY with your Music! Check these out!