It is always a great pleasure discovering new music, exciting tracks, and talented artists, especially when their sound is unique, fresh, and a clear reflection of their generation. Artists like Promise remind us that music, when it is done with an open mind, is always evolving, following our society's evolution, and contributing to the shaping of the contemporary artistic flow. Today, we had the great pleasure of interviewing this talented artist who shows a rare maturity and cultural awareness despite his young age!
Hi Promise, thanks a lot for being here with us today at Planet Singer. We love your sound and the outstanding work you did on your latest tracks, but let's start from the beginning; how did you discover your love for music?
Thank you for inviting me to this interview and giving me a chance to introduce myself to a wider audience. I never discovered my passion for making music because my love for making beats and producing music was always and still is with me to this day and will be with me forever.
What are your main influences?
Many people influenced me in the music industry, but I would say that Kanye West is one of them if I have to choose some. There are also artists like Lil Peep, Freddie Dredd, and Asspizza.
I personally loved your track "Trapped Baby," a perfect example of Phonk music! Can you tell us more about this track?
I think that Phonk music can be very diverse in approaches for creating this sub-genre of music production because it's quite new and unique. Yet, I wanted something that could bring that nostalgic feeling to people while listening to this kind of music.
Your producing style is very up-to-date, but still, you keep that classical sound that made great records of legends such as Kanye West and Yung Tucic timeless. Can you reveal what your production process is?
The first thing I do is putting on some Jazz soundtracks and mixes to get that workflow going. While listening to Jazz, I study other artists and their workflow and their approach to music production. After all that, I simply try and jam with the knowledge I absorbed through Jazz music and studying other artists while making beats sound like it's the perfect balance between punchy ignorant and mellow tunes.
You are originally from beautiful Slovenia. What is the music scene like there?
From the perspective of older generations of people, there is still a lot of so-called "radio" music. Still, from the perspective of younger generations, there is a lot of electronic and hip-hop music. I see that styles like drill and trap songs evolve and spread more, becoming more and more popular among people in Slovenia.
If you could collaborate with a Major artist, who would you like to produce?
It's hard to pick only one major artist because there are so many to choose from, but if I could collaborate with some, I would choose Kid Laroi, Freddie Dredd, GXX, and Ion Lil Gut.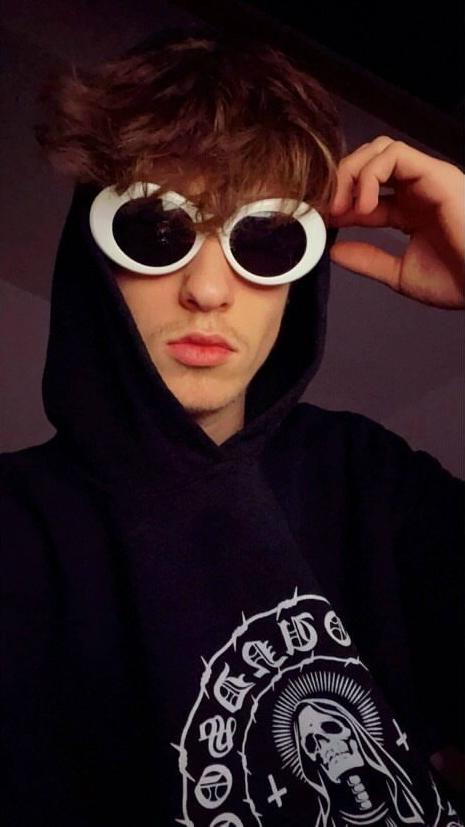 What do you think about the contemporary music scene? Any new artists you like?
I think it is unique for sure and sometimes even catchy. I can't really give an opinion about new artists because I don't really listen to them that much, but what I do listen to is some old-school hip-hop like Three 6 Mafia, or I spice my playlist with some Good Charlotte.
Where do you find your inspiration?
I find my inspiration in various places, like studying underground producers and artists' music and their approach to the audience. I also get my inspiration from fashion designers because many of them are bold, and they are good at being bold, which you can see in clothes that people wear.
Talking about inspiration, I think another track that carries your trademark is "U N T I T L E D." Can you tell us more about this song?
With the song called "U N T I T L E D," I wanted to make a new genre called Glitch Phonk. I thought it was the perfect genre for trippy ambient sound, but it would never take off because Phonk by itself is just a sub-genre and has a relatively small community that is still growing to this day.
Your style is dynamic and very colorful; how do you choose the right beat and sound for your tracks?
I would love to collaborate with Eminem. His creativity, flow, versatility, wordplay, fan base, knowledge, and energy would be beneficial to me, and it would be amazing to get that opportunity.
What are your plans for the future?
I want to design and make clothes and express my art that way alongside making music and developing music production skills.
It was such a pleasure discovering more about your music! Our readers will find your interview inspiring and encouraging, especially during these challenging times. We wish you all the best with your future releases and your art!
Thank you, and to your readers, I would say to focus on yourself these days because many people will use you or be fake to you and do what you want to do without reacting or worrying too much about what people say.
Check the links below, discover more about Promise and his music, and don't forget to add his tracks to your favorite playlists!
Learn Singing, Piano and learn how to MAKE MONEY with your Music! Check these out!