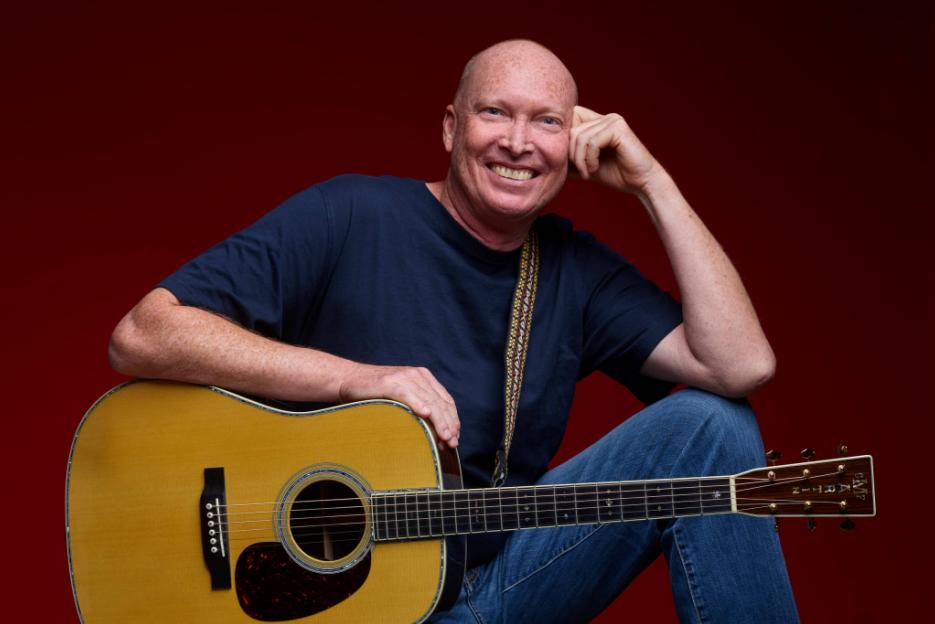 Some artists live their music in a unique way. When their connection with what they sing and write is intense, intimate, and personal, it shows in their lyrics and melody, and the result is timeless and awe-inspiring! Artists like John McDonough have the rare gift of reaching the listeners more profoundly, taking them away towards new soundscapes with their songs! Today, at Planet Singer, we have the great pleasure of listening to some of his songs, discovering more about this talented artist in an exclusive interview!
Hi John, it is a pleasure having you with us today! One of the best things about your music is that you always stayed true to your sound. All your songs, the old and the more recent ones have the same energy and trademark that makes you stand out! When did you discover this passion?
Hi! Thank you for having me! I have loved to sing for as long as I can remember. When I was a kid, I would crank my stereo in my bedroom, sing along at the top of my lungs, and pretend I was on stage. I especially have always loved the singers who had powerful voices, so I have worked on that element in my own voice for a long time! I have also always been drawn to the acoustic singer/songwriters. I think I was ten when I bought my first album, and it was Harry Chapin's Taxi. I couldn't get enough of it. So honestly, for as long as I can remember, I have been drawn to the powerful vocals combined with acoustic guitars.
You have been playing, writing, and performing for a long time. Where do you find your inspiration?
I always joke that my life is pretty boring! I have a great life with very little drama, so while I will write the occasional love, our lack of love, song, that only goes so far. I am always reading and watching documentaries, and I find a lot of inspiration there. There are endless stories of people with fascinating lives and experiences that I am so moved by, and this often motivates me to write. I especially love telling the story of someone who is not known, but who has shown tremendous courage, resilience, and strength. Not only do I really enjoy singing about those people, but I also feel it is my little way of giving them the attention they deserve.
Your songwriting style is unique. Can you reveal your creative process?
Thanks! Normally I will have an idea of a song I want to write, and I will just think about it for a while. I'll think a lot about what I want the song to say and how I want it to sound. Then, after I have a good feel for those things, I will actually sit down with the guitar and try to write it. I like to write the music and the words at the same time, I find it fits better that way. Sometimes I will go so far as to take tons of notes on notecards and have them laid out in front of me. The more I know what I want to say, the more I can focus on the music and creatively saying what I want to say.
Your latest album, "Second Chances," is an acoustic collection of your favorite songs from "Dreams and Imagination" (2014) and "Surrounding Colors" (2016) and will be released March 17th, 2021. How did you choose the songs of the tracklist?
My 2014 release, 'Dreams and Imagination,' had some really good songs, and over the years I have tweaked them to give them more interesting arrangements. I have worked very hard on my guitar playing since then as well, and have written guitar parts for those songs that are much more engaging. So I have been wanting to rerecord some of the songs off that CD, but I wanted to make the new recordings more unique, which is why I stayed strictly acoustic with 'Second Chances.'  I went a little more electric on my 2016 release, 'Surrounding Colors,' and while I am proud of that CD, I felt the songs could really shine if I let my words and melodies be more the focus. So from that CD, I chose the songs that I thought were best, didn't necessarily need new arrangements, just needed to be acoustic. I am so excited about this CD, it came out better than I had hoped or expected!
Your music has always received great reviews and airplay all over Europe and the United States. How important is it for you to relate with your audience? Are you planning a new tour supporting the new album?
I love the nights when I am fully engaged with the audience, when I can talk about the songs, and when I can combine my personality and humor into the show. I would be so happy if I could play small theaters for the rest of my life and have those special moments every night. I had a big tour planned for the east coast for 2020, and obviously, I couldn't do it because of the pandemic, so I am hoping to be able to do that tour towards the end of 2021. I am especially excited to do that tour, and get to Europe, now that I have this CD completed. I love Europe, but have never done a tour over there, so that is another big goal of mine.
What do you think of the contemporary Rock scene? Any new bands you like particularly?
I love how there are so many creative and unique people who can now be heard because of streaming platforms, recording has become much more affordable, etc. Two of my favorite current artists are James Bay and Joshua James. I feel they both have it all. They have great voices, they are great song writers, have meaningful lyrics, and they both seem like really nice guys!
If you could collaborate with one of the artists who inspired you the most, who would you like to share the stage with?
This is so tough, but I think I would have to go with James Taylor. I learned the guitar because I wanted to be able to play and sing 'Fire and Rain!' I wore his album 'Sweet Baby James' out! I also think he is very funny and very smart, so I know I would find him very engaging. I would love to pick his brain about songwriting, and hear the stories he could tell!
Over 500 gigs, six full-length albums, countless festivals, reviews, and radio plays. If you had the chance to travel back in time, what would you say to your younger self at his first experiences?
When I was younger and insecure, and I would play the tough gigs where no one was really listening or paying attention, and it really discouraged me. I often stepped away from music because nights like those got me so down. I regret that because I lost a lot of time and experience that I am working hard to make up for now. I would tell my younger self to not take it personally; often people are listening and enjoying the music when it appears they are not, and to keep at it. Nights like those are valuable, even if not that enjoyable, and the harder you work now, the less of them you will have when you are older.
What are your plans for the future?
I am dying to get out there and play live! It has been about a year since my last gig, and I really miss it! I will start booking again in America when I know things are safe, and my goal is to start playing shows in summer and booking tours for the end of 2021. I am talking with my European promoter about going to Europe for a tour in 2022. In the mean time I will continue to write new music and do my livestreams. I recently relocated to the Chicago area to be closer with family, and I am very excited for a fun summer here with them, hopefully mask free!
John, it was such a pleasure chatting with you today! We wish you all the best with your music, and we can't wait for your next release! Is there something you would like to say to our readers?
Thank you very much and thank you for having me! I really want to thank everyone for checking out my new CD and please share it with friends and family. Also, please follow me on my Facebook music page, JohnMcDonoughLIVE. This is the best place to follow me because I will post there if I am in your city for a show, and also where I do my livestreams. My website is www.johnmcdonoughlive.com, and this is also a great place to keep in touch with me. Thanks again!
Check the links below, discover more about John McDonough and his music, and don't forget to add his tracks to your favorite playlists!
Learn Singing, Piano and learn how to MAKE MONEY with your Music! Check these out!