With a brand new album out, a successful Radio Show, and a clear vision of where he stands in music and in life, Mack Lightning is one of those creatives that know how to stand out from the crowd!
When it comes to music, every artist is different. It is not always a matter of sound or genre; it is all about the approach to art and the transparency towards the audience. Artists like Mack Lightning do not make compromises with the trends of the mainstream circus; he creates his own path, creating opportunities for other artists like him, a sign of incredible maturity and artistic consciousness rare in the business!
Today, at Planet Singer, we have the great pleasure of discovering more about Mack Lightning and his music with an exclusive interview!
Hi Mack, thanks a lot for being here at Planet Singer today! You are one of those artists that don't follow the rules but make his own, strong of a unique style and a direct approach, so we are thrilled to know more about your music and your artistic journey. Let's start from the beginning; how did you discover your passion for music?
Well, first of all, I just wanna thank you for even having me on here; much love to you and everybody that reached out to me on here. It really is a blessing to be here today, na mean? Anyways my passion for music started when I was just a kid back in 1999; when I first heard the slim shady ep, it was amazing to me the way he told story's that were so vivid and clear that it was like you could actually feel what he was feeling on almost every track. He really was a huge inspiration to me.
Can you tell us more about your latest projects?
Yeah, I just actually finished my new album called "When Thunder Strikes." It took me a really long time to get things ready to be released and published on the web. I had a lot of things in my way that were trying to stop me from finishing this project. Such as drug addiction I had to overcome and also going in and out of jail. Having lost my family and stuff like that, ya know? But it's finally finished now, and I'm here so yeah.
The Hit Factory is a great Radio Show, can you tell us more about it?
I'm the creator of the show, and it basically was made to support other local artists that don't really have nothing to showcase their music, so it gives them a chance to get their music heard on a major level and still remain independent.
If you could share a track with one of the artists who influenced you the most, who would you choose?
This is a tough one for me cuz there's a lot out there that are really good, naw mean? But my all-time would have to be hit um up by 2pac.
Where do you find your inspiration?
I can be inspired by the littlest things, such as the books I read or the music I hear. But mainly, it comes straight from God himself. I feel Jesus Christ saved my life from all this madness, and I give him all the credit for that, so yeah.
You are one of those artists who know how to stand out, hard to categorize, and extremely versatile, yet very direct and close to your audience. How important is it to you to stay loyal to your fans and to your artistic identity?
It's very important to me cuz you just never know what kinda effects you can have on somebody. And I just wouldn't be able to live with myself if my music was the main cause of destruction for them, naw mean?
Your style is unique; can you reveal what your creative process is? How do your songs come to life?
Well, there's really no process for me, I just gotta find the rite beat that touches me deep in my heart, and that's where it all starts. Then I begin to paint this picture with words that rhyme together.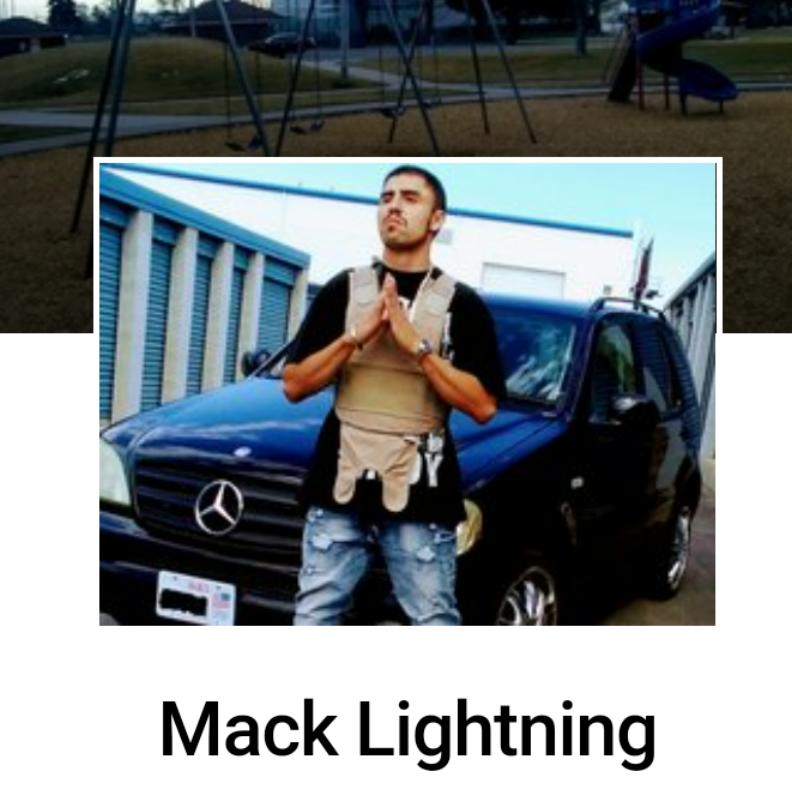 The last couple of years have been tough on the music industry. This didn't stop music, and artists found in Live Streams a way to reach their audience. Are you planning any Live stream or gig anytime soon?
Well, of course, I do plan on going live on my radio show and much more to support my artist and give them a chance to succeed as well. But it's just a matter of finding the time in doing this.
What are your plans for the future?
I mainly just plan on enjoying my life from here on out, naw mean?
Mack, it was such a pleasure discovering more about your music! We can't wait for your next release! Is there anything you would like to say to our audience?
No problem, it was real fun doing this, and the main thing would have to be is that dreams really do come true as long as you believe in yourself and Praise Jesus. Thank you all for the love and support, best regards, may God bless the world!
-Mack Lightning
Check the links below, discover more about Mack Lightning and his music, and don't forget to add his songs to your favorite playlists!
Learn Singing, Piano and learn how to MAKE MONEY with your Music! Check these out!