Today, at Planet Singer, we had the great pleasure of chatting with Pretty Zino, a talented artist that combines the best R&B with the most authentic and raw Rap and Hip-Hop! While most artists nowadays focus on streams and views, trying to climb the digital platforms' algorithms, some, like Pretty Zino, stand out of the crowd thanks to unique style, incredible songwriting, and a truthful vision of our times!
Pretty Zino is the living proof that, if you got that talent and the drive, you could accomplish everything in life, and especially in the music world, this is fundamental to build up a strong and lasting career. Backed up by a team of incredible artists, creative and supportive, Pretty Zino found the perfect habitat where he can achieve total artistic freedom.
And talking about artistic freedom, I have to say that his latest track, "Bando," is a real anthem of what free creativity sounds like! This track, which features talented rapper and Hip-Hop artist Tra-Shill, goes straight to the point, raw and direct like real music is meant to be! Starting from the great beat, the excellent production, and the perfect balance between Pretty Zino's incredible singing skills and Tra-Shill powerful rapping, this release is one of those tracks that keeps the name of Hip-Hop high, making no compromises. As said before, the production is excellent; minimal and crystal clear arrangement with massive basses; turn the volume up to know what I mean!
"Bando" is more than a song; it is something you have to live on your own skin. The track is supported by a great video that shows the energy and unstoppable drive of these talented artists. Pretty Zino recently released a mixtape titled "252 Plugged-In" with DJZILLA from da 252 NC area, featuring various artists from the StrateDolo Music Group label, such as 1401Guapo, 1401MESSi, 1401 LILzeek, 1401RomeoRedd, 1401GBABY, and BIG YO. Pretty Zino is making the right steps towards the success he deserves, supported by Tra-Shill & Sco Dadon, the label's CEOs.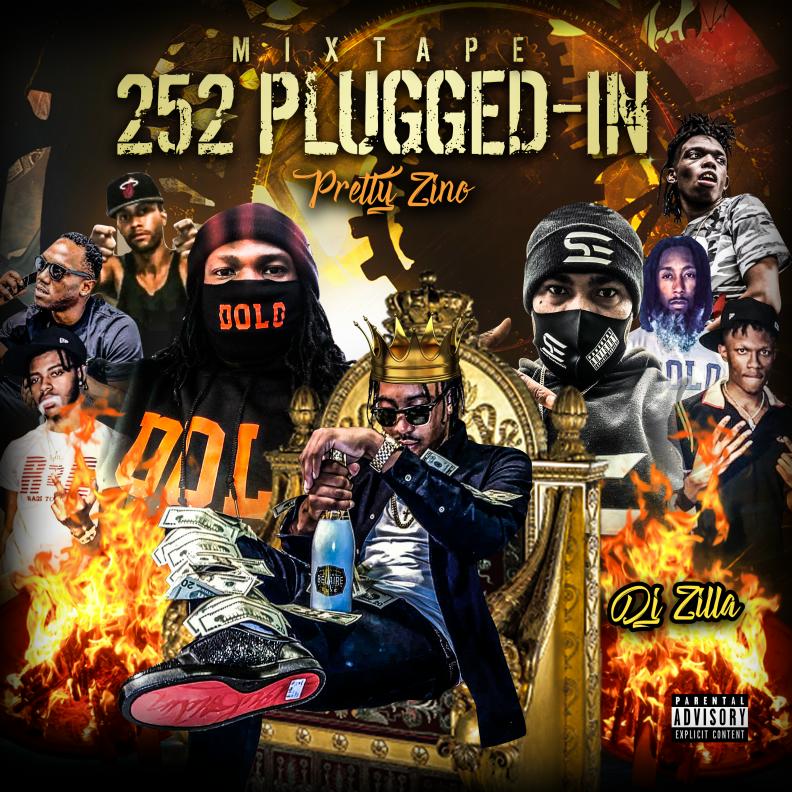 Here is our chat with Pretty Zino, sit back, and enjoy this dive into the creative mind of this talented artist!
Pretty Zino, it is such a pleasure having you here with us at Planet Singer today. Through your music, we can feel that your music reflects who you are and your real-life experiences. Let's start from the very beginning; how did your music path start? How did you discover your passion for music?
I first got into music by being in church singing solo's and singing in the choir. I started doing that around three years old.
Every artist has a different approach when it comes to creating music. Your approach is raw, direct, and melodic, yet powerful. Can you reveal what your songwriting process is?
My songwriting process usually goes like this: I'll listen to beats freestyle and play around with the beats until I come up with a decent hook. Then I'll record myself singing the hook on my phone so that I won't forget the melody, then hit the studio and lay the hook and verse.
It is everyday rarer to find artists, especially in Rap and Hip-Hop, with an authentic approach. Everyone who has a laptop and a mic feels ready to release an album, this lead in the last years to a saturation of the digital platforms. In this scenario, talented artists like you, who bring quality music to the table, sometimes have to work even harder to stand out of this crowd. How important is it to you to have a team like yours to support and sustain your music?
My team is very important to me. We all are like family; we all communicate and always motivate one another, and that's always important; without them, it would be No Pretty Zino.
"Bando" is a great track. Can you tell us more about this song?
Bando is a song that I came up with because it's a life that I've lived, and when I came up with it, I was thinking about those people who don't live that life but make music records or about that lifestyle. But Don't get it confused; Bando can be whatever you want it to be, like a job, etc.
In your single, featuring also talented rapper Tra-Shill, we can feel incredible energy, thanks also to the support of all the other artists present in the project. How was recording this track with such a great and supportive family of artists?
Working with Tra-Shill is always amazing. He is a great rapper and always brings energy on every track we work on together, especially on "Bando" it's always good vibes when we're in the studio.
What are your main influences music-wise?
My main influences are old school, new school RnB/Hip Hop.
What do you think about the latest releases in the Hip-Hop and Rap world? Any artists you like particularly?
I think Hip Hop is going great. I love all of the emerging new artists; I just love how everyone is expressing their art. The artists I like right now are Drake, Lil Baby, and the Migos.
2020 has been a tough year for live performances; once it will be possible to perform on stage again, will you bring your music on stage? Maybe a tour?
Yes, when live performances start back up, I will be hitting the stage, so be on the lookout for me.
What are your plans for the future? Where do you see PRETTY ZINO in 10 years?
In 10 years, I see myself being very successful in the music game. I'll be producing and writing music for other artists.
It was such a pleasure having this chat with you! We can't wait for your next tracks, and we wish you the best for your future projects!
Y'all stay tuned. I'm dropping heat that's gonna shake up the atmosphere soon. STRATEDOLO WAY …ALL day "PRETTY Z.
Check the links below, discover more about Pretty Zino and his music, and don't forget to add his tracks to your favorite playlists!
Learn Singing, Piano and learn how to MAKE MONEY with your Music! Check these out!