April Diamond's version of "I Got The Music In Me" is a track you cannot miss!
Exciting, vibrant, and colorful, April Diamond is one of those singers that know how to stand out from the crowd. Known for her incredible voice and her unique musicality, April's rendition of "I Got The Music In Me" confirms the creativity and refined artistry of an artist who knows how to captivate her listeners!
Today, at Planet Singer, we have the great pleasure of listening to her latest track and discover more about her music and artistic journey!
April, it is such a pleasure having you with us today at Planet Singer! Your recent single, the excellent version of "I Got The Music In Me," is just another proof of your versatility and creativity! But let's start from the beginning. How did you discover your passion for music?
Thank you!  It's awesome to chat with you!  Thank you for having me! I just love it.  I was inspired to go to college and major in a Vocal Major after singing in musicals, performing in church with choirs and doing choir solos. I also sang in my brothers Rock band, did national anthems and more.  I had some raw talent but I wanted to be a pro singer. Completely.   The very first inspiration to be a singer came from my Grams when I was little.  She was a pianist who switched back and forth from playing the piano and the organ in church.  I would sit by her while she played and she would look at me and say, "Sing Little girl!  I can't hear you!"   She was my biggest fan I think.  She all but forced me to sing a solo in church when I was about 9yrs old.  I really tried to get out of it due to me being sort of insecure and having my own fears, but the day came.   So, now you see how that event launched a scared little girl to really sing out and face her fears, and begin the journey to become a Billboard Charting Recording Artist, being played on Radio!  Thanks Grams.
Your version of Kiki Dee's "I Got The Music In Me" is much more than a cover; you genuinely gave the song a second life. The song also shines thanks to an incredible arrangement and the collaboration with talented trumpeter David Longoria and the internationally renowned Show Choir Powerhouse. Can you tell us how did this project come to life?
Yes, it is a fun song! So catchy, that's what people tell me! I think you are right when you say we gave it a second life. That is exactly how it feels. David Longoria is well known for his trumpet playing and his abilities in Producing and songwriting. He produced the song along with Robert Eibach. He actually came up with the idea to remake the song, but with that catchy rhythm, you hear. I listened very closely to the original by Kiki Dee, and after hearing David's idea, I was like, hmmm ok let's do it! Then as we were recording Vocals and the Trumpet, It sort of came to me to add the Powerhouse Showchoir from John Burroughs High School in Burbank to back us up. I was at the time working with the choirs there and doing vocal workshops with them. I am a Vocal Coach, too :), that's my other passion. I came from a choir background and thought how cool it would be to add a choir to the song, but not just any choir, the best choir with the skills to perform and record like pros. I approached Mr. Jennings about it, and he said, sure let's do it! He trains his five competing choirs like they are pro singers and he maintains a very high level of excellence from his choirs. That's why they win their competitions and that's why they are now on the radio! So… after months of different versions and fitting a choir in a pop dance song, testing it out, we found the right mix! It was a big effort by all of us but we are proud of what we created.
My inspiration comes from the story I want to tell and those amazing Divas from today and back in the day who give 1000% on stage and in the recording studio. Mariah Carey, Whitney Houston, Donna Summer, Aretha Franklin, and others my mom would listen to and sing along with around the house and in the car really caught my attention. Then the current hits from Lady Gaga, Sia, Pink, Arianna Grande, Christina Aguilera, and wow, I love Carrie Underwood. Just so much heart and soul and their belief in what they are singing about made me want to sing then and now with the same passion. I am also inspired to leave a legacy to the next up-and-coming Recording Artists, especially the Independent Artists. I hope my inspiration and my journey inspire theirs. I hope more Singers and Recording Artists like me dare to put their music out in a big way and become successful. I want to help in any way I can. Follow my lead, follow my team's lead. My success is theirs too.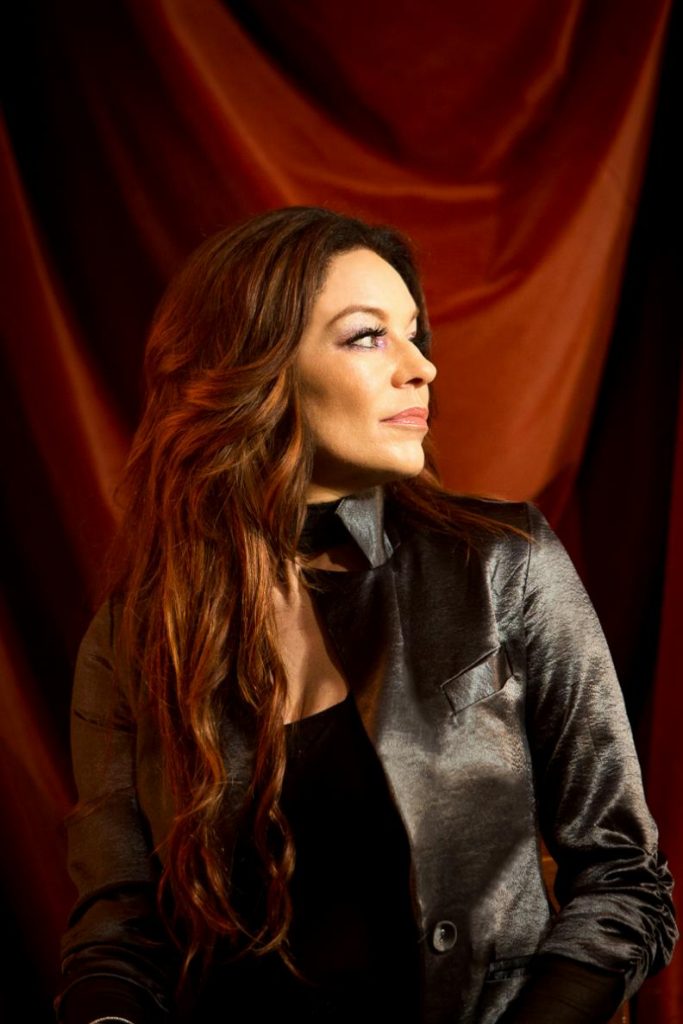 The last couple of years have been tough on artists and the music industry, but this never stopped you. Your live streams are very successful. Can you tell us if this new way of performing makes you feel, as an artist, and as a performer, compared to a usual gig on a stage?
Yes, it was very hard. Quarantine did kill live music for a while. When the music stops, it's sad. So I didn't stop; I wanted to find a way to reach out to everyone I could and keep them on pace as well as myself. To stay engaged and to tell my story, "LIVE with April Diamond!" That's what I call my Live streams on Instagram and youtube, and the other platforms. To be honest, it was not something I seriously planned out but a response to being at home and wondering how am I going to reach out to let people know I am still here? So, I started going live consistently, and it caught on. It is a very different dynamic than a usual gig because I can interact with my fans and friends and get to know them on a deeper level. They can also reach out to me and learn what I am about. I LOVE IT, and I will continue to stream and perform! I can just be myself and talk about life with them. It's great, it's rewarding, and it's a type of family. So I created the hashtag #MyFollowerFamily, and it's catching on! They really are my family. Follow me and join the family!
David Longoria isn't just a talented musician but also a great producer. How did your collaboration with David start?
Yes, he is; David is one of THE best producers out there. We connected over a performance I did in a musical, and he and his wife Latisha really liked my voice, and that's when we began to work together. We have collaborated on many music projects, and we have the same goal in mind, to make great music. I think the goals we have for our music inspire us to continue making more music. We challenge ourselves to be better with each project/song we create. David will ask me to sing something, and I will take a few days to create a performance with it. Then I come back with what I've done with it. We adjust, we change things, we add things, and if there is something that needs to be redone, we redo it. We don't rush through the process; we are intentional in everything we do. We only put out what we agree on is the best performance we have. 
Your first single, "Lose Control," is another incredible track, which topped the Billboard Dance Chart! Can you tell us more about this song?
"Lose Control" was my first real hit! It takes a little time to find THE song that the world will love. We wanted my first song we released to be a chart-topper, and that is exactly what we did. We recorded many songs before LOSE CONTROL, but we thought this one was catchy and a bit edgy, just the thing the dance clubs would like and want to play. We were right! We went through a few versions of this song, making many changes and adjustments to it. Even recreating it to make it more catchy and unique to introduce April Diamond to the Dance Music world. It was very successful! To be honest, when I heard the different versions, I was wondering if we were even on the right song but, as you now see, we nailed it. I am really proud of it. It's still playing in clubs to this day!
You are from beautiful California, one of the most stimulating and artistically vibrant places on the whole planet. How do you think this impacted your artistic journey?
I think there are so many creatives here in LA; it is definitely the place to make music. The connections, the networking, and the beauty here in So Cal contribute to my inspiration. I am blessed to live here and just head or to the beach or mountains when I need a break. Relax and take in the beauty. Even to just do some people watching, everyone has a story. People come here from all over the country and all over the world. It does enrich my journey, and I learn more about the world around me just being in one place. I am still on the journey, and I know there is a lot more to learn and a lot more music to make.  
Time changes every year faster, and so the music. How do you think genres like pop and dance music will evolve in the next years?
Yes the music does change and evolve. I think a return to that happy pop music sound will come back to pop music, and dance music will mirror that in some ways. It will be interesting to see where it goes.  
Your career is incredible. You performed all over the USA and Europe; your music hit the charts, you have collaborated with countless talented artists. If you could travel back in time, is there something you would tell the beginner April Diamond making her first step in music?
Thank you, wow that's a great question!  I would say don't doubt yourself and push forward with everything you have!  Sing to that small audience you see now, and see it like it's the Hollywood Bowl or the Staples Center because that's where you are going!
While many artists focus on the ego, trends, and gossip, your music is genuine and audience-oriented! How important is it to you to be transparent with your audience and connect with them without filters?
I have always been honest in my performances and my music. When I sing, it comes from a real place in me. Even though I GOT THE MUSIC IN ME is a remake, it is an all-new version of the song with a great message. I think when listeners hear my voice, they are getting to know me for real as a person, not just a performer. That is and will always be the way I connect with my audience. Creativity and how I perform will continue to evolve, but the real April Diamond will always be what you see and hear now.
Your voice is outstanding; it is the result of a natural gift but also of many years of study and dedication. As a singer and vocal coach, what advice would you give to those who are just starting to discover their voices and artistic path?
Thank you so much :). I had some talent, yes, but I struggled with most of the same vocal issues that everyone experiences. That is one of the reasons I created my Vocal Training program, to help other performers and aspiring singers to become confident and powerful singers. I would tell every singer, whether professional or new to singing and performing, study and build your voice. The journey to becoming a great singer is to constantly train and improve. Make a goal for yourself and stay on the path until you reach it, both in your vocals and the story you want to tell in your music.
We are back on the stage! Do you have any upcoming gigs planned soon?
Yay finally! Yes, I am heading to Miami, New York, and other cities for shows, and I will post the dates on my website at AprilDiamond.com!
If you could collaborate with one of the artists who influenced you the most, who would you like to share a song with?
There are So many other Artists who I would love to work with.  I would love to do a dance song with Bruno Mars!  His voice and his Motown feel are amazing.
April, it was such a pleasure having you with us today! We are sure your music and passion will inspire many of our readers. Is there anything you'd like to say to them?
Please follow me on Social Media! Follow me on Spotify!  
Follow @AprilDiamondMusic on Instagram! Say hello on my LIVE with April Diamond Show, subscribe to my youtube.com/AprilDiamondOfficial, and request my song I GOT THE MUSIC IN ME on your radio stations and support Indie Artists everywhere!
My success will be the success of up-and-coming artists everywhere! Thank you so much for this great interview, and thanks to everyone for listening!!
Check the links below, discover more about April Diamond and her music, and don't forget to add her tracks to your favorite playlists!
Learn Singing, Piano and learn how to MAKE MONEY with your Music! Check these out!