Gifted with a unique voice, a terrific musicality, and an artistic vision that makes her stand out from the crowd, M-Ritz is one of those artists who know how to reach their audience!
Through brilliant arrangements, soulful vocal lines, and intriguing harmonic architectures, "By Now" is one of the best releases of 2022 so far. Captivating and inspiring, M-Ritz's music convinces from the first note to the last!
Today, at Planet Singer, we have the pleasure of discovering more about M-Ritz and her incredible music with an exclusive interview!
M-Ritz, it is such a pleasure having you with us today at Planet Singer! Your latest release, "By Now," is a great EP that leaves a sign and tells a lot about yourself. We are thrilled to know more about you and your artistic journey, so let's start from the very beginning. When did you discover your passion for music?
I always loved to sing and was surrounded by a lot of wonderful musical influences growing up. As a child, my parents raised (my brothers and) me on lots of "Oldies"–what was then MoTown, the Beatles, Simon & Garfunkel, Aretha Franklin, etc., as well as on Rogers and Hammerstein musical films. My parents both played some guitar, and from that shared passion for music they taught the joy of us all singing together on road trips and hikes. I also grew up in the Lutheran Brethren church (my paternal grandfather was a Lutheran pastor) and was molded by Christian liturgy. Linked to that religious community, I traveled fairly extensively during my pre-teen and teenage years to places in Central America and East Africa, and I was affected by the intensity I would hear congregations effuse during services. Things like my mom taking me to the ballet also instilled within me a deep appreciation for Classical music. And as an adolescent, after my younger years of listening to Britney Spears, N'SYNC, and the Backstreet Boys, I got super into Rock–Punk Rock, Heavy Metal, Ska, and Alternative. I also loved Dance, House, Disco, and Trance. I also absorbed the music of my three older brothers, such as '90s Hip Hop, R&B, and '80s Rock. So I feel that I was definitely drawn towards and influenced by edgier, heavier sounds as I grew older.
During high school, I basically had three phases during the development of my passion for music: Rock, Jazz, and Opera. My parents were supportive of me furthering my musical talent, and as such, I was vocally trained in Classical and Jazz, beginning at the age of 13, at the recommendation of my elementary choir teacher. I sang in school, church, and local choirs and participated in some vocal competitions. I strummed some power chords on my father's guitar with dreams of becoming a rock star. The school I attended participated in the international Lionel Hampton Jazz Festival in Boise, Idaho, every year, and I was fortunate to witness some major jazz talents during the 6 or so times I attended. Ella Fitzgerald's "A-Tisket, A-Tasket" was the first jazz piece I ever performed completely solo when I was 13, and when I took some lessons from Seattle's jazz vocalist Greta Matassa later in high school, I was introduced to Peggy Lee, whom Greta felt was a good vocal influence for me. Another voice teacher, Sharon Angle–although our focus was more Classical and Musical Theater for my training, introduced me to Eva Cassidy. I listened to her "Songbird" album on repeat and utterly fell in love with her version of "Autumn Leaves." Then finally, the last voice teacher I had in high school before doing training in college was Sherri Brookfield-Jordan. Originally from New York, she was fabulous and confident, and she got me started on Opera by placing me in a little Operetta production she and her husband orchestrated during my senior year of high school. I subsequently became interested in Opera, and soon she introduced me to Maria Callas, with whom she felt I had some similar potential for becoming a Dramatic Soprano. I became all but obsessed over Maria and absorbed all the information and music I could gather on her as well as about the opera world. 
Although music and singing have been a major part of my life since I was very little, it was not until 2016 when I developed a passion for creating my own music. I began looking over poetry I'd written over the years, got a keyboard, and started experimenting with songwriting. I loved it. After some time, I felt like I had something substantial that was developing, so I decided to pursue it. Once I started working with other people on making music, I became hooked. Creating music is now one of my greatest passions, and I am very grateful for all the circumstances in my life that led up to me discovering and then developing that passion.
Your background in Classical and Jazz music gives you a strong foundation but also incredible versatility. How do you approach different genres of music while keeping your unique sound recognizable?
I've been told my musical style is genre-fluid, or "Alt-Pop," which I think is accurate. Although I brand my sound generally as "Jazzy Pop," the way I approach constructing a song is in a manner that lends itself to the particular sound of my voice and singing style. I don't have that belty, bright mainstream kind of Pop voice, and it's often been referred to as "jazzy" in style, so I have learned how to arrange songs in a way that can better accentuate its timbre. More importantly, what has enabled me to stay true to my own sound is collaborating with people who really listen to me and aim to champion my vision as an artist—particularly my producer Cortex (hOLLANDjUNGLE Productions). I often like to have an "edgier" kind of sound to my music, I think largely due to my original love of Rock, so sticking to my own personal tastes while approaching different genres of music helps me keep my music more "me" and less conventional.
Your version of 1971 classic "Diamonds are Forever" is incredible. When and why did you decide to open the EP with this great track?
That is very kind of you, thank you! I know it's taking serious liberties from how the original sounds, but I just saw too much potential with the lyrics and application to a more contemporary sound to not create this version. I originally planned on releasing this track as a single (I first developed the concept in 2019 while working at a job in the diamond industry), but then pieced together an EP that I pitched to my producer Cortex in January 2021. The song "Diamonds Are Forever" is such a great song because while it seems shallow in regards to material things like diamonds, it is really deep because it resonates with so many of us on our own journeys with romantic love and the heartbreak we experience. I thought that with the depth and vulnerability later explored in the EP, "Diamonds Are Forever" was a great track, to begin with because it alludes to a sort of emotional shield that we can all build up when deep down we crave connection and love and better things for ourselves and our world.
Where do you find your inspiration?
I am inspired by everything–whether it be philosophical writers, visual artists, politics, films, musicals, traveling, New York nightlife, or my own experiences in life. When I create music and write songs, I attempt to tap into universal messages that will connect with the listener and either soothe or uplift in some way. And I also look to great contemporary artists like Lady Gaga and Bjork for inspiration on how to cultivate my own craft and trust in my own vision. 
Your latest EP is different from your previous releases. "Like I Love You" and "Cool Cats" are excellent singles you released in 2018 and 2019, yet in "By Now," we find you with a renewed strength. Do you feel the same artist as before, or did these years change something in your veins?
I feel that I have definitely grown and matured as an artist. A large part of that has been learning how to listen to my own "voice" and stick with my own vision. When I started making music, I listened to too many opinions and compromised, I felt, too often on the direction my music would take. I finally arrived at the conclusion that if I was truly going to be an artist, I needed to start thinking like one by blocking out "the noise," so to speak, and focusing on what was going on in my own mind. That is not to say that I stopped seeking out advice and opinions, but I learned how to better listen to other opinions thoughtfully and with consideration while also staying true to the integrity of my own ideas.
An exclusive interview with talented artist M-Ritz!
If you could collaborate with one of the artists who influenced or inspired you, who would you like to share a song or the stage with?
There are so many inspirational acts with whom I would absolutely geek out to share a stage, but I think that ultimately Björk would take the cake. 
An exclusive interview with talented artist M-Ritz!
In your EP, we find other excellent tracks such as "Pain In My Heart," "Skin," "Thrive," and the title track, "By Now." Different sounds and vibes, yet a thin thread connects these songs, reflecting your incredible talent and showing your versatility. Can you tell us more about some of these songs?
I had different styles in mind for all of these songs, but what I believe connects them (along with the others from the EP) is an underlying message of longing for genuine connection. "Pain in My Heart" is a reflective song that serves to transform pain into something uplifting through the power of song/art. I think it is an example of my conviction that art and self-expression have such an incredible ability to help us heal and grow. "Skin" is somber yet soothing in that it conveys a universal message of wanting to connect deeply with others. Although the tone is melancholy, I wanted a driving beat that could, in a way, serve as a conduit to channel those intense emotions of hurt and sadness. "By Now (When Will This End)" encapsulates the grand hopes and visions many of us have for romantic love and the cinematic-like tragedy we feel in not seeing those dreams come to life. Finally, "Thrive" gives a message of hope with recognition of the fact that we are all tired and worn out. Hope for a better life, for a better world, for better connections with others. 
Your voice is just incredible! Is there any advice you would give those singers starting their artistic path?
Thank you, I've been fortunate to have a lot of great training! I definitely recommend voice lessons and finding vocal coaches who inspire you. Learning how to breathe and support your singing with your breath properly cannot be overemphasized. Also: learn how to express yourself! You are not just creating sound—you are conveying raw human emotion in one of the most powerful ways a person can.
What are your plans for the future?
I will be releasing two more singles this year that are what I would call full-throttle Jazzy Pop music like you've never heard it before. The first will be "Alter Ego" on August 5th, accompanied by a fun music video. The second will be coming out around October. I intend to continue developing this sound until it is a recognizable trademark for Pop and Adult Contemporary music listeners alike.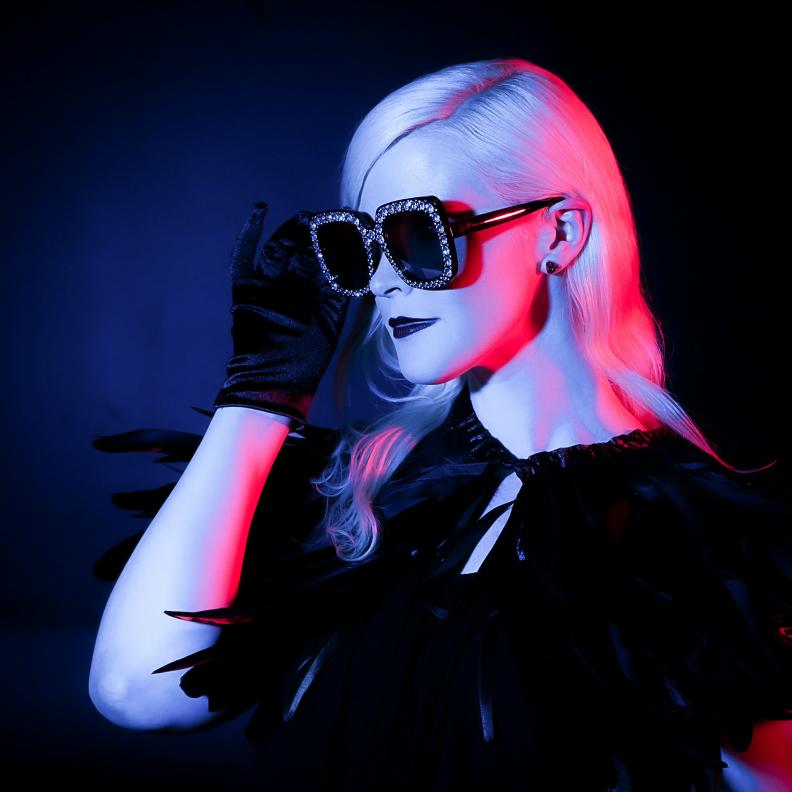 M-Ritz, it was terrific having you with us! Is there anything you'd like to say to our readers and your fans?
I thank everyone who has supported me throughout my journey, and I encourage anyone wanting to do more with their own talents to do so! You have to have nerve, vision, and unquestionable belief in your abilities. That doesn't mean that you won't have moments of doubt or feelings of inadequacy, but you need to hold onto an underlying mission and determination in what you are doing. No matter what your age is or what background you have–if you have the drive and resilience to push on through towards your goals, then hold onto them and see them through.
Check the links below, discover more about M-Ritz and her music, and don't forget to add her tracks to your favorite playlists!
Learn Singing, Piano and learn how to MAKE MONEY with your Music! Check these out!