"Bailando Mambo" is one of those tracks you never get tired of, thanks to excellent songwriting and brilliant arrangements!
Engaging, exciting, and incredibly captivating, Gianluca Gallo is back with another exciting release with his "Bailando Mambo," a refined and energetic track featuring talented vocalist Lydia Breska that will stay in our favorite playlists for a long time!
Today, at Planet Singer, we have the pleasure of listening to this excellent release, discovering more about this talented Italian artist!
From the beautiful Sicily, Italy, to the world! Born in Agrigento in 1974, Gallo's passion for music started when he was just a kid when he began playing the guitar at the age of 12, and the admission to the Music Conservatory of Palermo when he was 13. Since then, his passion for Italian Rock music and other genres catapulted his career, enriching his artistic curriculum with performances alongside artists such as Francesco Baccini, Luca Barbarossa, and Los Locos, to name a few. The success of the song "Quanto Tempo" (1998), the tour in 1999, and his first single CD titled "Un tuffo al Mare" (2001) followed by "È Tardi … Arrivederci" (2007) and the brilliant remake of the famous song "Susanna" (2020), are just some of the fundamental steps that made him the great artist we can appreciate today.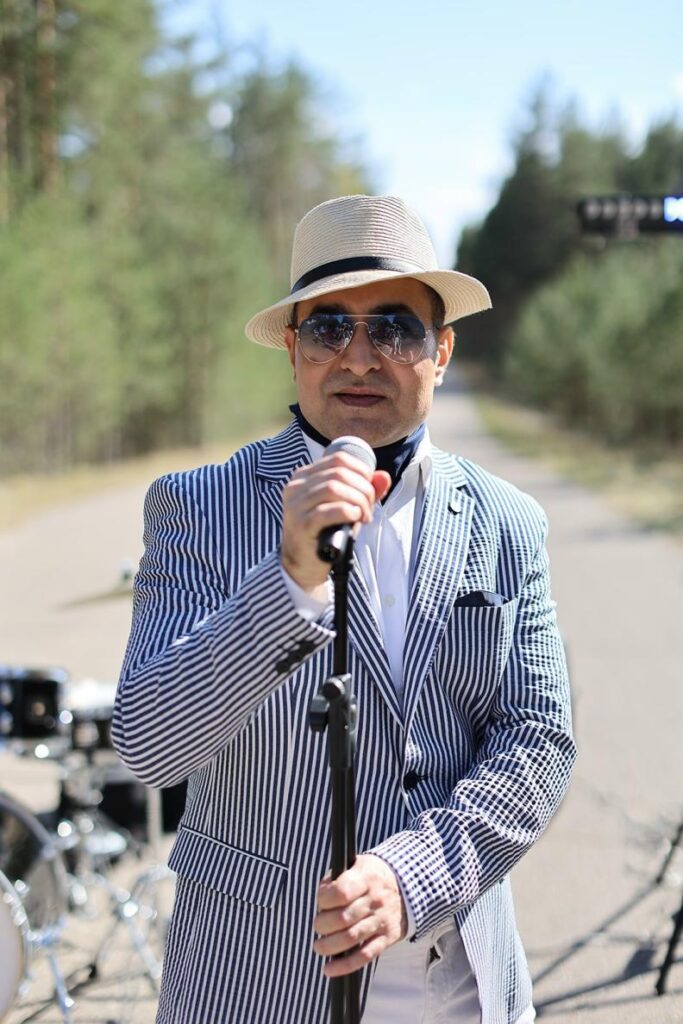 "Bailando Mambo" is one of those songs that convince from the very first notes. The exciting Latin rhythm, the incredible arrangement, and the captivating melodies are just some of the pillars that sustain this colorful musical architecture. An excellent intro leads to the first verse, where Lydia's amazing vocals steal the scene, catapulting the listener towards new vibrant soundscapes. Hard not to dance to this track, especially when Gianluca joins the party, giving that song that extra boost of energy with the enthusiastic chorus, a melody that will stay in your mind for days!
Excellent musicians, outstanding interpreters, brilliant production, and arrangement make the song flow smoothly from start to finish, turning a perfectly composed track into a contemporary masterpiece of modern Mambo music. Gianluca's and Lydia's voices mix perfectly together, creating colorful harmonies that make the song extraordinarily various and versatile; the fantastic dynamic of the brass section, together with the drums and percussion, add that extra dynamic to an already convincing piece. Well done, guys!
"Bailando Mambo" is a great release that will surely be very successful during the summer, and we can't wait for Gianluca Gallo's next release!
Check the links below, discover more about Gianluca Gallo and his music, and don't forget to add his songs to your favorite playlists!
Bio:
Born in Agrigento in 1974, Gianluca Gallo began playing the guitar at the age of only 12. at the age of 13 he passed her exams entering the Music Conservatory of Palermo. at the age of 16, he formed his first Rock group, not neglecting his studies at the Conservatory. In the meantime he began composing and singing Italian Rock style songs and after having sent auditions to various show agencies, he was called to perform in the concert of some singers such as Francesco Baccini, Luca Barbarossa, Andrea Mingardi, Los Locos. In 1998 he recorded a song titled (Quanto Tempo) and it is thanks to this song that has been successful in Sicily and southern Italy, this song is passed on the radio and Gianluca is called as a guest in various events of Piazza and also host of television programs . In 1999 he began his Tournée with 7 dates in the Sicilian squares, with Pop Rock songs written by himself, obtaining great favor from the public and reaching in some squares an audience of 5.000 people. In 2001 he finally released his first single CD titled (Un tuffo al Mare) a joking single that goes a bit 'out of the rules, the electro-pop-Latin style, and this time begins another tour with 10 dates. In 2007 comes the single (È Tardi … Arrivederci) that brings Gianluca a decent success in Italy, first through a television commercial that uses the song and then through over 400 national radio stations that pass the song. 2020 Gianluca is the time of Susanna, this is a remake of the very popular Susanna song. Susanna had obtained more then 2 million views in YouTube, more then 1 million plays in Spotify, more then 50 magazine in USA and Europe, more then 1500 Radio worldwide and 1 month of streaming in MTV USA. 2021 in 13 of May Gianluca will Release the new song Bailando Mambo in Latino Style in all digital platform Worldwide.
Learn Singing, Piano and learn how to MAKE MONEY with your Music! Check these out!