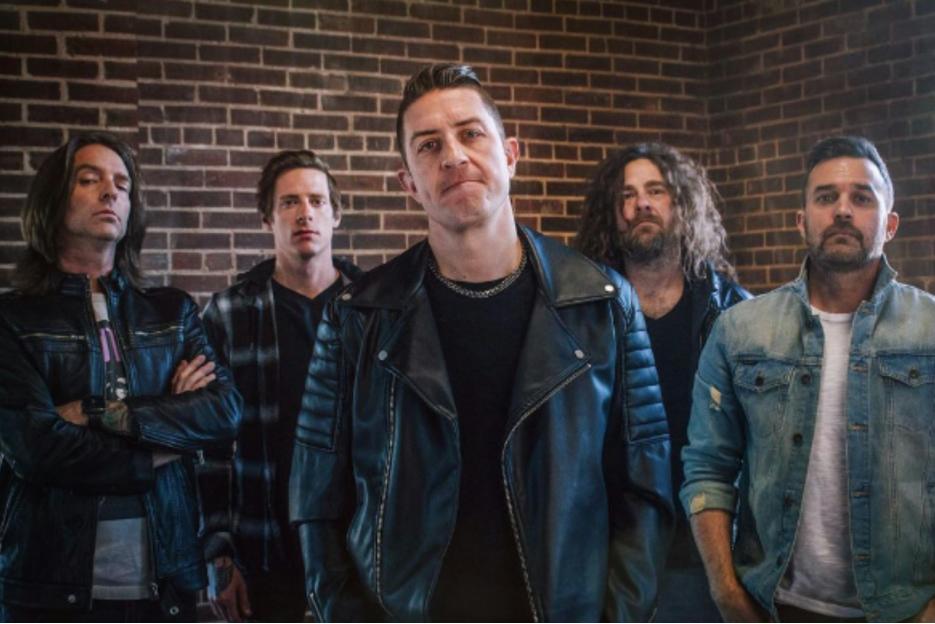 Inimical Drive will join Otep for their Spring Tour! Don't miss it!
Powerful, energetic, and emphatic, Inimical Drive is one of those bands you recognize from the very first second! Convincing both in the studio and on stage, the band is ready for a Hot Spring that will see them supporting Otep on their US Tour!
We had the pleasure of chatting with talented Joel Colby, frontman of the band, and discovering more about their artistic journey and upcoming projects!
Hi guys, and thanks for being with us today at Planet Singer! Your sound is powerful, inspiring, and energetic, and with your unique style and artistic vision, you stand out from the crowd! We are thrilled to know more about you and your artistic journey, so let's start from the very beginning! When did Inimical Drive come to life?
We technically formed many years ago. We were as garage band as it comes. Myself, Dan, and Nick as original members began to develop a sound but stayed regional for several years. We first sort of stepped out on the national scene in 2012 with our EP "Signal the Sirens" which gained us some notoriety through placements with MTV's "The Challenge" and in Revolver Magazines "Band of the Week".
Your new rendition of your single "Nothing New," brilliantly revisited and reinterpreted, shows not only your versatility and talent but also your artistic maturity! Can you tell us more about this song and what this new version means for the band?
We all love a wide range of music and styles but are really connected with acoustic and unplugged versions of some of our favorite songs. I saw sort of a resurgence with "stripped" versions hitting the rock scene recently. This record leans a bit more rock than some of our heavier previous records so I knew we wanted to explore that. To all of our surprise, it ended up being "Nothing New" and we couldn't believe how well it turned out. Our friend Gerald with Dungeon Studios helped us produce and develop the song and immediately we knew it would connect with people. So thank you, we only hoped people would love it like we do.
Let's talk about your memorable sold-out performance at Inkcarceration Music Festival!
What an unreal experience. We've played many festivals over the years but nothing of this magnitude. We had every challenge thrown at us with a breakdown on the way and torrential downpour the day we performed but the Danny Wimmer Presents team made sure to keep it rolling and we had an incredible time. The fans were incredible and what a show to be a part of with that lineup. Strongly recommend attending this fest if you are a festival goer.
Many shows ahead for 2023! Where can we see you on stage next?
We leave in May for our first run with Otep and are booking a few dates around that tour as well. We are looking to be aggressive this year into next so expect more announcements to follow!
Spring 2023 will also see you supporting OTEP as well! Your sounds are distinct yet keep that same energy, verve, and depth, I am sure you're gonna have a great time! What can we expect from those shows?
We are so stoked to be a part of this. We love that it is a west coast run for starts. We have done well on the coast in previous years and have many friends across the country so the support has been amazing since announcing. One of the first large national acts we opened for years ago was Otep for a packed house so that's also very sick. We plan to bring a heavy and energetic set to each one of these cities and look forward to connecting with new and old friends.
Can you reveal what your creative process is? How does Inimical Drive's music come to life?
Typically starts with a riff or chorus idea. At times I have thrown a vocal idea out to work with but most often those fall into something we are working out musically. We also love taking a heavy load of the writing into the studio and letting that energy build the magic into the songs. This record was only a handful of riffs and a few lyrics and melodies before jumping all in to knock it out in the studio.
From St. Louis, Missouri, to the world! Being able to create a sound that is internationally appreciated is a rare thing, especially for Metal and Rock bands. You follow your instinct when it comes to your music, also, there is that thin like that connects you to the best act of Rock music of the golden era. Can you reveal where you find inspiration for your music and sound?
As stated before we have a pretty wide range of musical tastes within the group so I think we all agree if it's good it's just good. We pride ourselves on continually writing what we like and not just doing what may be considered "hot" or "current". Every genre currently seems to have Trap beats mixed throughout to be considered "new" or "relevant". While I love much of it, if it hasn't fit in what we are feeling we haven't done it. But you never know, this next batch of songs could be a Halsey pop record or have a country song. Whatever our energy is at the time haha!
Every album marks a fundamental milestone in a band's career. Your latest fill-length "From Solitude" is an incredible release. Can you tell us how this album come to life?
I think it's best summed up by saying that incredible things happen when amazing and talented people get on the same frequency. We brought in Matt Appleton (Goldfinger/Reel Big Fish) to Sicktones studio with our good friend and producer Jack C. Daniels (War of Ages) and just said "What can we make with all of this?" The experience was incredible for us. There was not one day that felt any less energetic than the rest. We knew that it was something special for us sharing in that together and hoped it would relate with everyone else. The record has hit a few milestones for us and continues to do more than we expected so we feel extremely blessed to have such great people around us and to have had that feeling carry even further past the studio.
What are your plans for the future?
Keep going. We love it too much. Our lives have been filled with experiences and the most amazing people that we now call family.
Guys, it was such a pleasure having you with us today! Is there anything you would like to say to our readers and your fans?
The support is not wasted on us. We will never take for granted the people who enable us to do this wild ride. Truly grateful for the entire ID Family, new and old.
Thanks y'all. Much love,
Joel and ID
Check the links below, discover more about Inimical Drive and their music, and don't miss the chance to see them live this Spring! Follow them to know more!
An inspiring conversation with talented artist ALYXX! Exclusive Interview!