The music industry has changed a lot during the last 20 years, especially in genres like Rap and Hip-Hop. Real poets and modern philosophers of the streets are often replaced with posers and money-obsessed performers that don't feel half of what they say in their songs, often written by ghostwriters. Anyway, there is still a lot of good in this genre, artists that are so creative and audacious who still believe in what they do, and their art is the mirror of their real-life and feelings. Thanks to artists like J-Carter, we know that there are still some authentic Rap and Hip-Hop acts out there! Today, at Planet Singer, we have the exclusive pleasure of listening to his upcoming album "Hip-Hop Till I Die," an exciting release that will keep you engaged from the first to the last second!
J-Carter is a talented rapper and Hip-Hop artist originally from New Jersey. Gifted with a strong musical instinct, J started writing his first lyrics when he was just 13! Inspired by the big names of Rap and Hip-Hop's old school, J-Carter shaped his style, experimenting, and expanding the boundaries of a genre that is in constant evolution. After several singles and three full-length albums, Carter is back with his 4th release, a 38-track record that shows once again his artistic maturity and versatility!
Let's start saying that "Hip-Hop Till I Die" is not just an album; it is much more. J-Carter is an incredible songwriter and lyricist; his approach is always focused on the meaning of each word, giving every single track its own identity. After listening to this upcoming album, we can say that all the songs that are part of "Hip-Hop Till I Die" are a real manifest of our modern society, explained with honesty by a real talent. Among these fantastic songs, we can find "Bottom to the Top," a great duet with the talented singer Kylee Brielle. Everyone should listen to this track, especially the young generation of rappers that live the illusion of being famous quick, without efforts. It is a long way to the top, and only those who are ready to work hard and be honest with their art can make it. Artists like J-Carter that in this track, thanks to the direct lyrics and great interpretation, explores the reality behind today's music industry.
"Coming in Second" is one of those tracks that show J-Carter's incredible ability to experiment and blend new genres with Hip-Hop. This song, feat talented Mike Goodrick, starts with an excellent ukulele arrangement that opens to a modern and engaging beat and crescendo from the second verse! "Get High For You" feat Bobby B is another proof of J-Carter's fantastic sound research. Thanks to the catchy melody and excellent production, this track is the perfect mix between pop and the best Hip-Hop!
It is the time for the title track "Hip-Hop Till I Die." It is not just a song, but it is a real anthem, a picture of what Hip-Hop is. Thanks to his ability to write the perfect lyrics for every situation, J-Carter managed to frame the real essence of a lifestyle. This track describes the raw and honest view of an artist with a clear vision of his music, a song that could have been modern in the 90s, among the Big names of Hip-Hop and Rap's golden age! Well done!
"It's Hellivision" with the ironic and irreverent lyrics is another window on our society. J-Carter vocals are outstanding; his dynamic and rhythm performance is proof of his incredible talent not only as a songwriter and lyricist but also as a performer! "Modest Not Hottest" feat talented Jamal B takes us back to the modern vibes, unveiling the reality of social media and the masks often people put on, pretending to be what they are not. "Now You Want Me" with the fantastic r&b vibes is another powerful track that shines of a great arrangement and the incredible duet with C Jae! We find the same energy and incredible arrangement in "Own Your Skin Tone," a true hymn to true beauty! This inspirational track is an actual shower of positivity!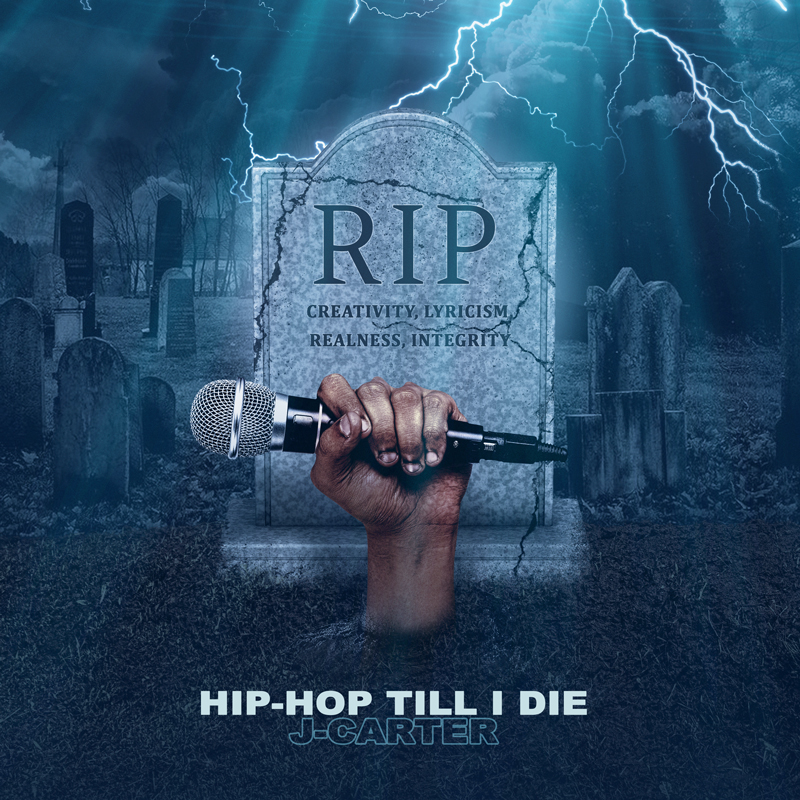 In "Stand Up" feat Aleisha Leo, and in "Stomp" feat P-Fear, we find again the very energetic and powerful rapping of J-Carter, two real gems of modern Hip-Hop! "What Happened To Music" is another significant song of this "Hip-Hop Till I Die." Open heart, direct and honest, J-Carter's lyrics are like blades that tear down the fake and pretentious appearance of nowadays music scene, exposing what's wrong in the industry. The real art will always find its way thanks to artists like J-Carter. His music doesn't need explanations, nor description. These are a few of the fantastic tracks you will find in J-Carter's "Hip-Hop Till I Die," a complete release, an album that everyone should listen to!
Check the links below and discover more about J-Carter and his music, and don't forget to add his tracks to your favorite playlists!
Learn Singing, Piano and learn how to MAKE MONEY with your Music! Check these out!