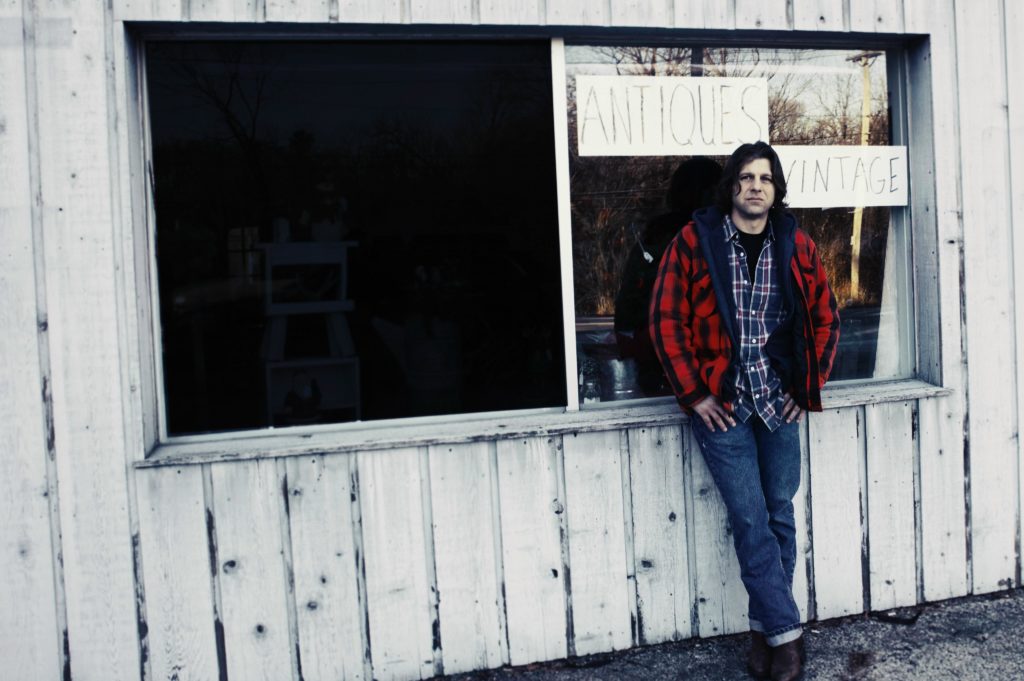 Born and raised on a farm in central Minnesota, Kurtis was exposed to country, folk, and rockabilly music at an early age. His parents owned records of Johnny Cash, Ernest Tubb, and many other country superstars. Kurtis moved around many times throughout his school years, attending 7 different schools. In his late teens Kurtis worked in a sheet metal factory and in an auto repair shop before enlisting in the US Navy. He spent most of a decade in the Navy, stationed primarily in California. In addition to his home state of Minnesota, Kurtis has lived in Florida, Virginia, California, and now lives in Illinois. Kurtis has been playing guitar and singing for several years, but in the last year has written over a dozen songs and is closed to completing his first album ('Maricopa County Angel' due April '20 – Thirdfire Records).
Hi Kurtis, it is a big pleasure to have you here at planet singer, tell us about your music. How did you discover the love for singing and writing songs? 
Thank you so much for taking the time to talk with me! I love the chance to talk about music. I discovered my love for singing when I was probably about 10 years old or so. I used to put music on at night when I'd go to bed and close my eyes and sing along. I'd pretend I was on stage in the band putting on a show. The songwriting part came much later. I gave songwriting a try in my early twenties but it was a struggle and I gave up on it. I did write a few songs back then, one of which I still play today, and maybe I'll record it at some point. Anyway, I just figured maybe I wasn't cut out to be a songwriter, so I just played covers of my favorite songs. Every once in a while I'd mix that one of mine in and I got enough positive feedback that it encouraged me to try again. So about a year ago I was going through a really difficult, painful time in my life and I was also trying songwriting again and apparently those two things work really well together! I began to write songs that I was really happy with, and enjoying the process a lot too.
What are your biggest influences?
My top three influences are probably Elvis Presley, Johnny Cash, and Hank Williams Sr. I've listened to their music my whole life and I enjoy it as much now as I did when I was a kid. I feel like I developed my idea of what music should sound like and, more importantly, how music should make you feel, from them.
In your life you travelled a lot, did this influence your song-writings and your way of living your music?
I would say that the traveling I've done has certainly shaped my life experience and the filter through which I see things.
What do you think about the modern generation of Country Music artists?
Personally, I have a hard time connecting with most modern country music. It's very popular though, so it must connect well with a lot of other people. There are some newer artists I really like, Chris Stapleton, Tyler Childers, and Sturgill Simpson for example. They seem to have a traditional vibe while at the same time making music that seems new and exciting and speaks to me personally. I find that inspiring, I hope my music does the same.
Are you on tour right now?
I'm not. I'm playing locally when I can and spending as much time in the studio as possible. I also have kids and a day job, so never a dull moment! When the album is finished I hope to tour to support it.
Your song "Good To Me" is a very deep and intense ballade, can you tell us more about this track? 
Sure, this is a very personal song to me. I wrote it about being vulnerable and emotionally available to someone who may reject you, or is rejecting you in a way. It's about putting yourself out there in a risky way with another person. I guess love makes us do crazy things, and this is one of those.
Tell us about your singing, did you train your voice professionally or are you a natural singer?
A little of both. I took voice lessons for a couple months to try to improve my upper range, but mostly I just do what I do. My voice is naturally low and instead of trying to work on making it something it's not I think I've become more comfortable just using my strengths in the low end and leaving the higher stuff to other people.
Your album "Maricopa County Angel" will be out soon, tell us more about it.
Last spring I had written a handful of songs and I was going to open mics and such to try them out and see what kind of a reaction I got. I was playing at a singer/songwriter event and after my set a man came up and introduced himself to me (Joan Velez – Thirdfire Records). Turns out he was a Producer and Engineer with an Independent label. He asked if I'd like to come record an EP with him (I had five original songs at the time). Since then, I've written a bunch more songs and the project has grown to a full album, 10 songs. So what was going to be a quick side project for Joan has morphed into something much more time consuming, and I really appreciate him. I wouldn't be doing this without the investment Thirdfire Records has put into me. We have released two singles from the the album, we expect to release the full album in April. We will probably release one or two more singles between now and then. So basically all the songs on this album were born of the personal struggle I've been dealing with in the last year. And although I wouldn't wish that on anyone as a way to get inspiration for songs, it has worked really well for me. On this album you will find a mix of traditional country, folk, rockabilly, and Americana. I don't know that I fit neatly into any of those genres, but if you like any of those, you might like this album.
If you could choose only one song from the album, which one would you choose?
I would choose the title track, 'Maricopa County Angel'. It's one of the first songs I wrote for this album and one of my favorites. It seems to always get very good reactions when I play it live. The lyrics are wistful and poignant, but not too sad. The guitar-based melody is upbeat and very fun to play. The track almost has a bit of a Zydeco feel. I'm very excited for folks to hear that one this spring!
What is the story behind your song "I Want You To Hold Me"? 
I was thinking about how a cherished relationship used to be and wishing it could still be that way. Of all the things I liked about that relationship, affection expressed as physical closeness was what I missed the most. I imagine most people have a relationship, or a phase of a relationship, they feel that way about.
Tell us more about your song-writing process.
For the past year, my songwriting has mostly happened whenever I'm feeling uncomfortable emotionally. I kind of pour that out onto the page and it helps me process and feel better. I try to find imagery that expresses what I'm feeling so hopefully someone else can connect with the song. Sometimes a really good song comes from it, sometimes it goes on the pile to get back to "later". I also write down words and phrases as they come to me throughout the day on my phone. I go back to those if I get stuck during the process.
What are your PLANS FOR THE FUTURE?
Well, I've been focused on songwriting and studio recording for the last year. As soon as this album is in the can, I really hope to focus on live shows and promoting the heck out of this thing! Ha! But really, playing in front of people is what I like most about music and I'm looking forward to doing a lot more of that starting this spring. From there, who knows. I guess that depends on how well people like it.
It was a pleasure to have this chat with you today, we really wish you all the best for your music!
Discover more about this amazing artist here!
Share it with your friends!