After the success of his single "Body Language," Michael M Jeni is back with an exciting new song, "Relapse," a track we all can relate to. We all have that one person that thinks they can always come back into our lives, whether it's friends, family, or lovers. After Michael M Jeni's uniquely written single "Relapse" was released, we caught up with an insightful interview with such a talented artist to explore his eidetic experience and what he had to say about his incredible musical journey so far. Read below to learn some exciting details about Michael M Jeni and his musical journey. Make sure you add this to your playlist on your favorite streaming platform.
Michael M Jeni, it is such a pleasure having you with us today at Planet Singer! We just listened to your single "Relapse," and it is truly brilliant! Everything, from the songwriting to your performance, is engaging and captivating. We are thrilled to discover more about you and your music so, let's start from the beginning. How did you discover your passion for music?
First, thank you so much for having me, I appreciate the interview and this opportunity. Second, it's humbling to hear those kind words about "relapse," one of my best songs to date. 
My passion for music came at an early age; I want to say around 2-3 years old. Growing up, my father would play music from morning until sundown, whether it was R&B, Hip-Hop, Congolese, Rwandan, even some gospel, music was always around. I was always intrigued by melodies and harmonies, and just the overall process of how a song came together, the frequencies, and how it sounds. Even watching music videos during the 90s from Michael Jackson, Koffi Olomide, Boyz II Men Tupac, they all had a unique approach to their artistry.
Your latest single, "Relapse," brings a fresh sound to the contemporary music scene. Can you tell us more about this song?
"Relapse" is an Afro-Pop / AfroBeat single; that's my genre, my sound, & my own lane. I collaborated with a producer in Madagascar in terms of beat production for this single. We've done at least three singles together, and his overall production is super, almost effortless, it seems. May 2020, I started working on "Relapse" while finishing another single for summer 2020. From writing, recording, mixing, mastering. I didn't finish "Relapse" until the week before the release date (February 28, 2021). Truly this has been the longest time I've spent on a single song. As an artist, you tend to be harsh on yourself; you critique everything, you want everything damn near perfect, and that's what I wanted with "Relapse." Lastly, as I was ending production, I was able to get additional backing vocals from platinum-selling writer and artist Lyrique J. She's written for Chris Brown, Beyoncé, Brandy, Ty Dolla $ign and others. I feel the vocals that she added, really added more flavor and layers to the record. After I heard her vocal chops, I was like, "I better go back in the booth." She really brought the song to life." Also, shoutout to the Day 1 Moise, also a great R&B artist; he also helped writing-wise with "Relapse." 
Just one month from its release, "Relapse" is receiving great feedback and results, both in terms of plays and streams. Do you think that the digital algorithm of YouTube and Spotify helps independent artists, or is it getting harder every day to reach your audience?
From personal experience, yes, digital algorithms from YouTube and Spotify do help independent artists! Do your research on algorithms from Instagram, Spotify, YouTube, and apply what you learn. The music industry is always evolving, and you have to stay up to date with the changes, and research is one way! Also keep in mind as an independent artist, we're in an age where you now have to advertise yourself almost like a walking Billboard. You have to put yourself out there, and that comes with promotion. With promotion, you can trigger certain algorithms in your favor! Lastly, what you present to you're audience also counts; for example, when you present a new song or album, you want to have an eye-appealing art cover, and more importantly, a well-produced song; if you have those two things, you will attract listeners to your song, that alone could trigger the algorithm.
Your voice is incredible. Did you attend singing lessons or are you a natural singer?
Thank you, no singing lessons; in elementary and middle school, I was selected twice for all state choir, so I guess you could say I naturally can sing, humbly, of course.
Can you reveal your creative process? How does your music take form?
I wish I could tell it at all… My creative process really starts with my phone, my voice memo app, and the notes app. Once I hear a beat that I like, the melody stays in my head; before I know it, I'm in my phone recording harmonies and "mums"… you know, mumble words with melodies!
The past years have been tough for artists. Are you going on tour once the restrictions will allow live performance again? Will you also do any live streaming?
Once restrictions are lifted, you'll definitely see me back on stage. Last year I was able to have one show in my hometown, which was a night I'll never forget. I hope to have more experiences like those this year. Regarding live streaming, I'm currently working on my first live event, I won't say too much, but It's worth the wait!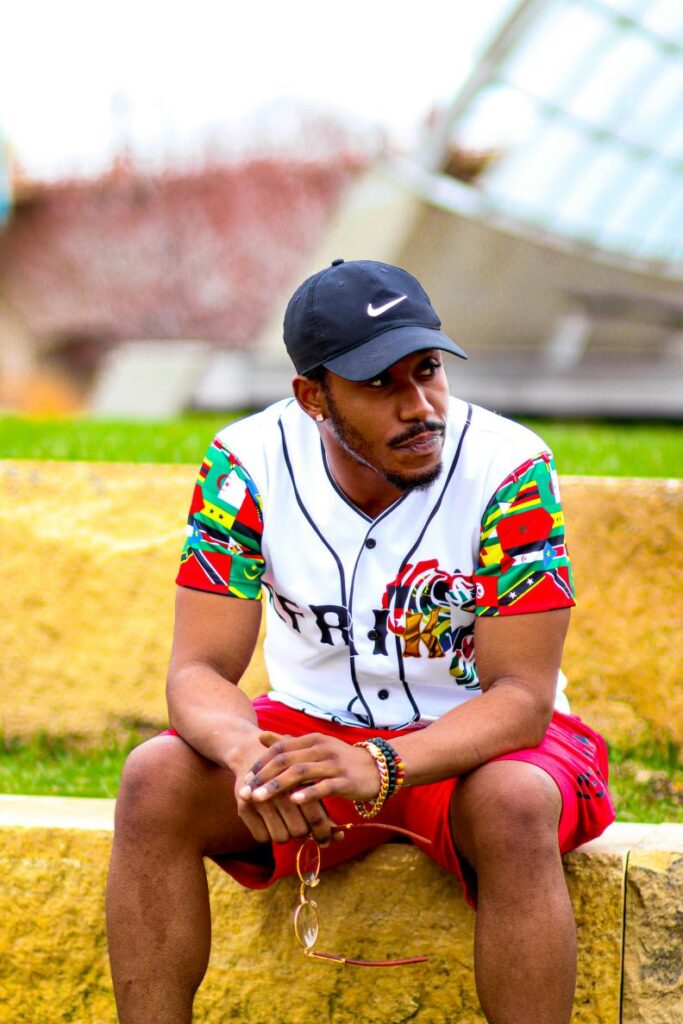 Afrobeat, Hip-Hop, R&B; Your music is the perfect blend of the best vibes of all these genres and much more. Where do you find your inspiration?
My inspiration comes from everything around me, from the music I listen too, the people in my life, and the vibes and energies around me. All those mentioned, I feel, are perfect to create timeless records!
Among the tracks of your discography, we can find some true gem of modern music, one of those is "Body Language," a fun and exciting track supported by an excellent video clip. Can you tell us more about this song?
"Body Language" is one of those songs you can put on and just groove. Lyrically it's direct, a bit explicit, but hey, we're all grown. I feel as I grow and mature, so must my music. Certain subjects like intimacy, love, and sex I definitely have to tap into & express!
Your music sounds great; as an artist, how important is it to find the right people to work with and trust your team on important decisions regarding your music?
It's very important to establish a team of people that you trust and have you have the same drive and vision as you. Personally, I handle the recording, mixing, mastering, distribution, and the business side of releasing a song. Now, regarding graphic work, promotion/ placements, and marketing I do have a team of people that I reach out to help push the song or video. Always be appreciative of your team and anyone who helps with what you're trying to achieve.
If you could collaborate with one of those artists who influenced you the most, who would you like to share a track or the stage with? 
One artist… Easy, Chris Brown. His level of energy, artistry, determination, consistency is unmatched. His music helped me through some of the hardest times in my life. He inspires me. Say what you want you want about him, but you can't deny talent when you see it. Give that man his flowers before it's too late.
In your music, we can enjoy catchy rhythms, memorable melodies, but also excellent lyrics. For many artists, turning their thoughts, dreams, and feelings into words and melodies is essential, like breathing. Do you feel the same?
I feel the exact same way. Music is an outlet for me to express my thoughts, feelings, and what I'm going through in life. It's therapeutic in a sense; I'd rather write a song about what I'm going through versus reacting negatively about a situation.
What are your plans for the future? 
I'm really big on keep things under the radar, but expect more music, more visuals, more content. This year I'm all about giving more! 
It was such a pleasure having you with us today, we really wish you all the best with your music, and we can't wait for your next release! Is there anything you would like to say to our readers?
Thank you for having me; I appreciate you taking the time to interview me. I would like to thank everyone supporting "Relapse"!
Check the links below, discover more about Michael M Jeni and his music, and don't forget to add his tracks to your favorite playlists!
Learn Singing, Piano and learn how to MAKE MONEY with your Music! Check these out!