Today, at Planet Singer, we have the great pleasure of discovering more about TheGrandWy-Z's world with an exclusive interview!
TheGrandWy-Z, thanks a lot for being here with us today at Planet Singer! Your recent release, the excellent single "The Brink," follows your debut album "Hypnotic" and shows how versatile and inspired your sound is! We are thrilled to know more about your artistic journey, so let's start from the very beginning. When did you discover your passion for music?
Music has been something I enjoyed and loved since I was a kid. I believe music kinda controls and runs the world in a way. I don't think I've ever seen a soul that doesn't love some type or form of music. My mother used to play and listen to a lot of Lauryn Hill, CeCe Winans, and play a lot of instrumentals my dad (Derrick L Wyatt) created. My mother always wrote her own poetry as well, and my favorite movie to watch as a kid with her was "Love Jones" with Larenz Tate and Nia Long, with an exclusive track from Lauryn Hill, of course, titled "Sweetest Thing." My aunt used to put me onto old school artists like Stevie Wonder, Michael Jackson, etc., while my Cousins gave me my first taste of modern-day hip hop with albums like "Get rich or die trying," "College Dropout," and "Food & Liquor." My grandfather used to always sing while working as a mechanic. "Somebody's knocking at your door" is something he used to always sing & music has opened a lot of doors for me as well as opening my eyes to realizing how much more impactful and influential music is than anything else in this world. Music is a big part of everyone and has been a huge part of me since I can remember. So I always felt like me becoming the Greatest Music Artist Ever would always be something that not only I would love but would garner respect and love from family, peers, and those of future generations.
"The Brink" is such an exceptional track; can you tell us more about it?
The Brink is a song about a man that has been stripped of everything. The Brink is about "The Dead Man Walking," and not in an angry vengeance but more so a feeling of emptiness. Before releasing the track, I had a few different versions, and all of my friends wanted it to be like this super hype song, but that doesn't capture what I was feeling at the moment when I wrote that song. When I wrote it, I was facing a feeling of emptiness. This is the feeling after you've done All of your crying, screaming and yelling. And you look at yourself and say, "I'm done with this. I can't trust nobody or make that mistake again. Y'all pushed me to my breaking point. And I hate to be like this, but the only way for me to go on is to detach myself from everybody and everything cause it's me against the world right now". The beginning of the song, when I whispered "Look what you've done to meee," always sends chills down my body cause it sounds like a man who just got hit with the biggest blow in life and somehow still alive, you know? It sounds like you're in pitch-black darkness with fog surrounding you, and that whisper, "Look what you've done to me," was legendary. And I feel like you feel more pain in that emptiness than you would if I was to be screaming or yelling it out. When I finished writing the song, I knew that song was going to be the intro, the hit & set the tone for my new album Chrome Hearted.
Side note I would love to capture that vibe again & make that a signature sound of mine.
What is immediately evident in all of your tracks is the energy and genuine approach, efficient rapping, and brilliant production. Your upcoming full-length is gonna be another gem in your discography! What can you tell us about "Chrome Hearted?" 
Chrome Hearted is actually the first album I had intentions of dropping; however, when I finished writing it, I realized this album entails all you need to have a classic album. My favorite albums growing up were the albums that lasted over an hour. You could just throw on that album during a long car ride and not have to skip a song, and by the time the album is over, you are already halfway through your trip. An album that has some legendary features and legendary verses, quotables, and songs that makes you think of a certain time of life. And an album that has personality in it, with a couple of skits like on "GOOD KID MAD CITY" by Kendrick Lamar and "College Dropout" by Kanye West. Songs that are personal & passionate, like on "Take Care" by Drake or Artist By A Boogie Wit Da Hoodie. & having your back against the Wall like Jay-Z in "Blueprint 2" or Daystar by Tory Lanez. I look to have a culmination of all of that. I was hoping to be able to save this album for a Major Label like Empire, Capitol, or Universal; however, when you are an independent artist, labels want to see how independent you really are. So we gonna show them.
You started with music at a very early age: how do you think all those piano lessons and singing in the church choir influenced you to become the Artist you are today?
People always use the phrase "Using your voice as an instrument." I feel like it's made it a lot easier for me to morph into any instrument I've played, especially just from playing/hearing the sounds so many times. I think what helped me more than anything, though, is actually being able to read and write music for saxophone, piano, etc., cause now when I write lyrics to beats, it's so much easier for me to add melody to it, and I'm looking at every word or syllable as a note. Sometimes when I'm recording in the studio, even and I'm singing, trying to strike a certain note with my vocal cords, my Engineer Tev always sees me put my hands out like I'm playing piano when I need that extra "umph" hitting a note you will see me press my finger down as if I'm playing piano. So those lessons and learning music down to the chords, melodies, etc., saved me a lot of time writing and making music and have birthed the majority of the success I've had for my songs today. I apologize to my mother for not being Beethoven, but at least she got TheGrandWy-Z, haha.
You recorded your first studio song, "All We Got," while quarantining. Do you feel the pandemic changed your perception of the world around you and, consequentially, your music?
As a music fan, the pandemic in 2020 made me realize that the artists who were still dropping music even during the pandemic when you couldn't do shows, etc., there are windows of opportunity you must take advantage of if you want to be mentioned as one of the best or the biggest names. Guys like Bad Bunny dropped 3 or 4 albums during the pandemic when everybody was home and listening to music all the time. Lil baby was releasing the bigger picture, an album, and was on featured on every song you could possibly think of. Tory Lanez, especially has been on fire since the pandemic. Hold up; my bad, am I allowed to mention him here? Haha. Those three guys, because of their work during the pandemic and them taking advantage of that downtime for guys like Kendrick Lamar, now you see them with a big spotlight on them. And I just want to always keep myself warmed up, continue improving, releasing music, and feeding my fans as well as putting on for them to the fullest. I know how it feels to be a fan of an Artist and see everybody else's favorite artists dropping great classic albums/songs meanwhile you're in debates with your favorite Artist not giving you anything to jive about.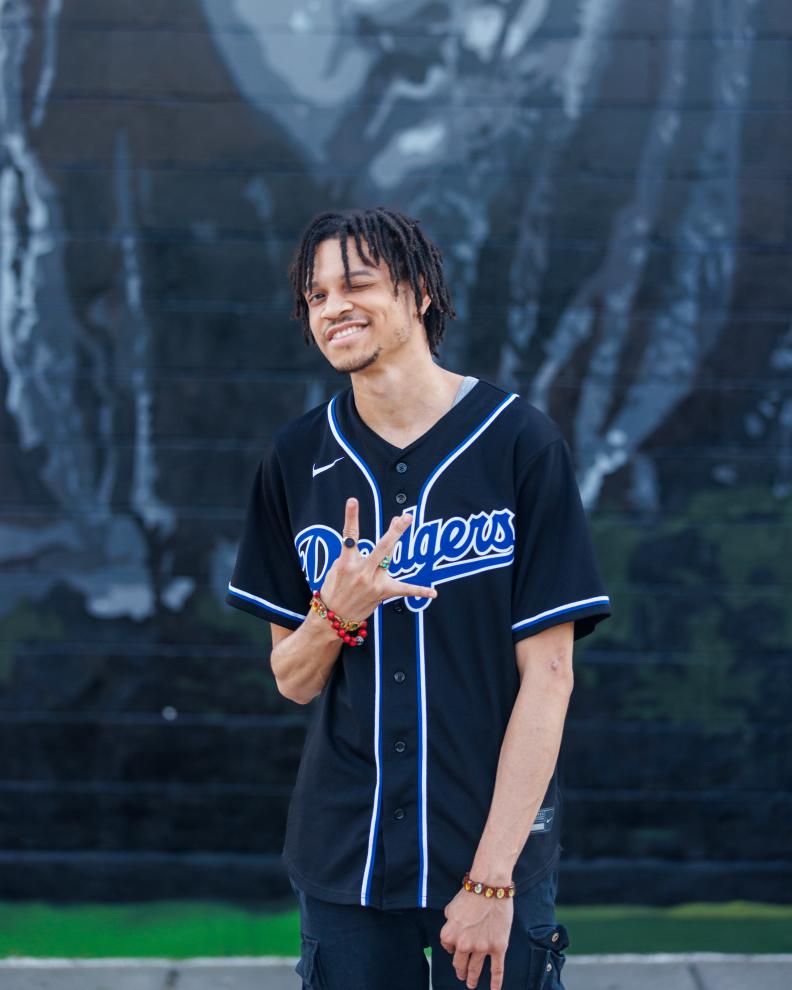 Can you reveal what your creative process is? How does your music come to life?
Most times, I find a hot beat, and I'll follow the beat of my heart. Sometimes the beat tells me what to do & my heart tells me what to say, and other times my heart just takes over, especially for situations and feelings fresh on my mind. I like playing the beat and kinda rewinding back constantly, taking it 2 bars at a time unless I'm in the zone and I free write. Or I'll just freestyle flow and melody and fill in the blanks for less personal songs. If it doesn't sound good, even if the lyrics are fire and vice versa, you're still missing out on a lot of potential listeners/fans had you made it sound good. I also love adding in a funny like here and there and personality as well.
Where do you find your inspiration?
I kinda draw a lot of inspiration from my real life, my poetry. I draw inspiration for certain parts of my songs, like on "The Brink," where I said, "Out the side door" at the end of the hook; I wanted to sound like Michael Jackson. Or I use Fabolous adlib "Nice," and I like turning my voice to pop smoke for an "uh huh" or a laughing adlib as well. I take my mental/competitive approach from Michael Jordan, Lebron James, and Kobe Bryant especially. But they inspired my mental approach toward life and challenges in general. My favorite artists of all time is Drake, Jay-Z, Kanye, Tupac, A Boogie Wit Da Hoodie & Michael Jackson. 
If you could collaborate with one of the artists who influenced you the most, who would you like to share the stage with?
The best fit would be Jay-Z. But my favorite to collab with would be Drake (2015) or A Boogie Wit Da Hoodie. Not saying Drake isn't who he was in 2015; I'm just saying my favorite style of Drake was "If you're reading this, it's too late." We were always used to Drake sounding like a full-fledged R&B singer. However, in that album, you heard more so of a Yelling-Sing/rap, which is something I loved. And most of all, that album has the greatest production I've ever heard. That's the production I want my albums to have. Every song damn near had the beat constantly evolving/transforming into something more beautiful when you thought it couldn't get any better. That album is my favorite album ever. And it made it even better that it was delivered at a time when Kendrick was contesting him for that top spot, and competition is always going to raise the bar and the quality. So I think with Drake being at the top spot, lemme go head to head on a track with him, not just on some rapping, although I want to out-rap him too, but overall artistry. 
What are your plans for the future?
Long term, I want to be known as the Greatest Rapper Of All Time. Simple as that. Short term, I'm most def looking forward to getting signed and going on a world tour, dropping classic albums, getting verified on IG, and getting my own Wikipedia page, haha. Interested in what y'all have to say about me. But for real, I believe a lot of people don't take you seriously or look at you as a pro until you have all of that stuff. You are not taken seriously until you have the 1 Million Instagram followers, the magazine/Wikipedia article blue check mark, etc. Even after I dropped my album, I didn't see my first bunch of fans come in until the articles and interviews started coming to give the city something to get behind and tell their people, "hey, he's up next, he's poppin." Radio interviews are big too, but for satisfaction for myself, I want people to put "TheGrandWy-Z" in google & a billion things pop up, songs, vlogs, blogs, videos, interviews, etc. Perfect, bad & ugly, I'm ready for it all. 
TheGrandWy-Z, it was such a pleasure having you with us! Is there anything you would like to say to our readers and your fans?
Most definitely. Keep watching; don't say I ain't warn you I was coming. Follow me on Instagram @TheGrandWy_Z and follow me on whatever streaming service you have cause ima be dropping consistently and embark on the journey for the Story of The Greatest To Ever Do It. And if you don't believe me now, just watch… ima make you believe…
*Sigh* Good Times…
My New Hit Single, Good Times, Dropping Soon!
Check the links below, discover more about TheGrandWy-Z and his music, and don't forget to add his music to your favorite playlists!
An intriguing chat with talented TheGrandWy-Z! Exclusive Interview!
Learn Singing, Piano and learn how to MAKE MONEY with your Music! Check these out!