Music is so volatile it cannot be seen or captured. Some artists, though, can forge it and shape it as an image of their thoughts and feelings, turning it into what we perceive as real Art. In the overcrowded and frenetic nowadays music scene, it is thanks to artists like Waikiki if we can still appreciate fresh and genuine music, timeless vibes, and contagious happiness! Today, at Planet Singer, we have the great pleasure of listening to three of the many fantastic tracks Waikiki has released, a stream of energy and passion that will brighten up your day!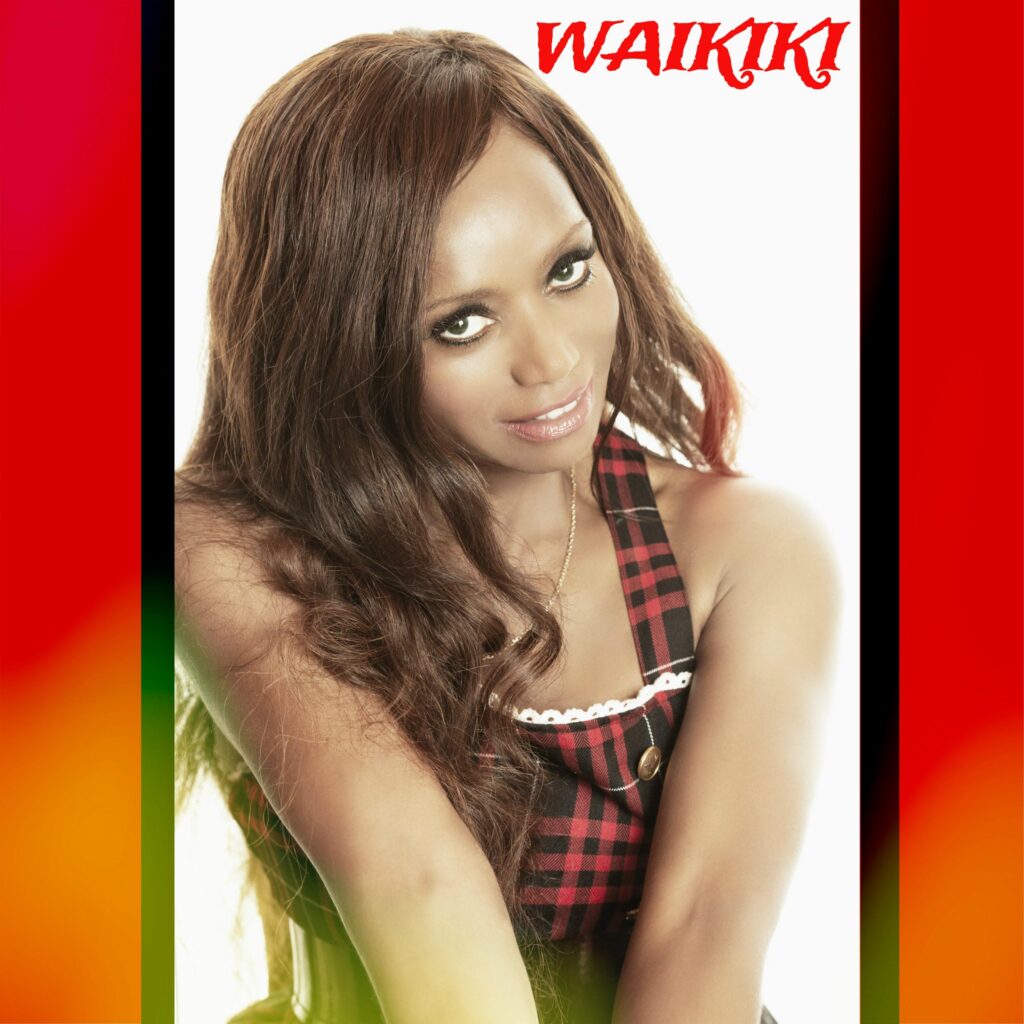 Waikiki is a talented singer, songwriter, and recording artist originally from Maui, Hawaii, and based in Norway and the South of France. Gifted with a strong musical instinct and a bubbly and explosive artistic vitality, Waikiki incorporates in her sound influences that span from energetic Pop music to Tropical House music, including with the best Dance and Electro vibes!
Waikiki's music shines of contagious positivity that goes straight to the listeners' hearts and shakes them like a big warm embrace! Like in her track "HULA CE SOIR (HULA 2 NITE)," the excitement reaches its maximum expression. Waikiki's voice is engaging and expressive. The passionate lyrics and her incredible interpretation make this track a real masterpiece!
"Midnight Taboo" is another fantastic track that comes from Waikiki's brilliant music abilities. In this song, we can appreciate another side of this talented artist, on a mid-tempo track that, thanks to the colorful melodies and its exciting rhythm, keeps stealing the listeners' attention from start to finish. The strong House vibes and the modern arrangement make the track flow smoothly, thanks to Waikiki's outstanding vocals!
Rarely we came across an artist with such consistency and charisma, with such a unique talent that is both versatile and colorful. These are two of the many great features of songs like "Pina Colada," both in the Remix version of 2019 and even more in the latest Tropical House mix! This version is a track you don't want to miss for sure! Starting from the very first seconds, Waikiki's voice welcomes you into her world, a dimension where holidays last 365 days a year, so forget all your worries, sit back, and enjoy the journey!
Waikiki is one of those artists that irradiates happiness through her music, a free spirit that, like a fresh wind, brings immense joy and positivity to her listeners! The future is bright for this talented artist, and we can't wait to listen to her next release and, hopefully, a full-length album soon!
Check the links below, discover more about Waikiki and her music, share it with your loved ones, and don't forget to add her tracks to your favorite playlists!
Biography
Waikiki is a singer-songwriter & entertainer living in Norway. & South of France. She creates pop / Tropical House music with high energy happy vibes.
Waikiki is a local girl from Maui, Hawaii, but her life story has taken her far from the local Hawaiian scene.
It all began after winning a local beauty contest when she won a modeling contract to Japan. The Japanese market was instrumental in promoting her career as an actress & singer because she could speak Japanese. From here, she went to Europe, which led to a singing career in Norway. Here she performed with His Majesty The King's Guard while hosting Independence Day for the American Embassy. She performed for Atomic Ski in Lillehammer, Norway, during Winter Olympics. With great honor, she was asked to perform at the Red Carpet Oscar Award afterparty for the historic film "Kon-Tiki."
Eventually, she was signed to EMI Warner Chappell because she was a singer-songwriter. They released her first single called "Maui No Ka Oi," which made the top 20 VG list in Norway, "Maui No Ka O.I." caused a sensation in France & Europe through the efforts of Rapid T.V. in England and eventually became an international hit and was also accepted to play in an episode on "Baywatch Hawaii."
JVC Records in Tokyo followed up and released her second single "Paradise" out of Japan. It sold 100.000 units, which caused it to go platinum in Norway. Followed up by "Pina Colada" and "Side of Fire," both being released in Norway to became Scandinavian Top 100 Dance Chart Hits. "Pina Colada" made the Top 30 Norwegian radio list. Following the release of "Pina Colada," she attracted the interest of the French label "Stick Music" to do a (French singing version). She was released as a French singing Artist & the track "Pina Colada" caused a French radio hit on internet radio stations. For years she has performed with her dancers at the Kon-Tiki Museum in Oslo, Norway, as the official Polyinesan Culture Show. The Norwegian Government has been instrumental in advancing her career with contracts for Statoil on the Norwegian oil platforms in the North Sea, tours to Norwegian Base Camps in Norway, and an adventurous tour to Kosovo and Macedonia to entertain the KFOR Forces of the United Nations.
In December 2017, she performed in Chengdu, China, after an invite from the Chinese Government. She performed at the Silk Road Indie Music Festival 2017. Fifteen countries took part in the event, and she represented Norway and received an award for "Outstanding Performance." Singer-songwriter Waikiki's new single "Hula Ce Soir" (Hula 2 Nite) was a summer hit in 2019. Now comes an exciting Tropical House remix in French! The catchy track was a radio hit, as it peaked at #2 out of "Top Ten" on WRS Radio out of the Holland; they went on to also peaked at #1 out of "Top Ten" on Absoluut FM Radio out Amsterdam, the Netherlands & during a PromoSchijf campaign by Absoluut FM. The track also peaked at #1 on AYN Radio out of Spain after winning a song contest by its listeners.
Waikiki's summer Tropical House remix produced by Dom Meakins with SoundBetter is filled with intriguing melodic rhythms, palpating tropical dance beats & catchy choruses. This fresh, exotic love song will be sure to bring the beach vibes to your listeners wherever they are! Hula Ce Soir (Hula 2 Nite) Tropical House is a great tune filled with energy, fun, romance & is creating "Kahuna Waves" worldwide on Spotify & radio stations! Waikiki's fresh new summer follow release is "Midnight Taboo" (Tropical House). This is a song you have never heard before, but "for sure," you have probably been down that road before!
The song is already out the gate, creating a buzz on radio stations worldwide after a promotion kicks off with www.iPluggers.com.
On June 21, 2020, "Midnight Taboo" was playlisted high rotation and played every hour as a hot new entry on WRSradio International playlist!
Spotify listeners love the new single as streams are over 90.000.00 in 4 weeks! Making the rounds too on Spotify playlists and receiving excellent reviews in the press worldwide!
The pulsating tropical house dance rhythms are captivating along with the melodic dance beats. Aloha, Drink me!
The follow up after summer released "Hula Ce Soir" & "Midnight Taboo" is "Pina Colada" (Tropical House). This new release has a fascinating history. Pina Colada was 1st released in Norway to became a Scandinavian Top 100 Dance Chart Hit & also the Top 30 Norwegian radio list.
Following the 1st release of "Pina Colada," the track attracted the interest of French label "Stick Music" to do a (French singing version). Waikiki was then released as a French singing Artist & the single "Pina Colada" caused a French radio hit on internet radio stations.
Now comes a new fresh (Tropical House) version created during lockdown!
True to its history, the new singe is heating up the radio airwaves. The new single jumped in as a new entry of the week on the charts with WRSradio out of the Netherlands. WRSradio playlisted the new single on high rotation, causing it to peak at #2 on the top 10 charts! Out on all your favorite stores soon!
The Pina Colada cocktail is considered as one of Hawaii's delicious national drinks.
The song's inspiration came when Waikiki spots a fine dude on the beach and wants to get his attention. To stand out for the rest of the birds of paradise. She decides to compare herself to an exotic drink!
The song emits beams of pulsating, dreamlike synth waves that energize your spirit and uplift your mood. The chorus & hook line is both super catchy & is a chart-worthy song ready to make some big moves with it's kicking drum beats. 
Waikiki has over 80000. F.B. likes and followers. Catch the whole Waikiki Journey at FaceBook Waikiki Entertainment @WaikikiMusic & www.waikikientertainment.com.
Don't forget to check the new videos!
Mahalo!
Learn Singing, Piano and learn how to MAKE MONEY with your Music! Check these out!