Describing the artistic path of an artist like Doddi is simple yet very complex: when we think about his music, the first word that comes to our minds is freedom, total, unconditional, absolute musical liberty. We had the great pleasure of discovering his work through his singles and eps, like the intense "Game Of Love" feat Aldís or the soulful and deep "Friends," feat Weekendson. Song after song, we realized that, despite the change of genres and styles, all of Doddi's releases have one thing in common: they all are honest, genuine, and free from any kinds of preconstructed restriction. Doddi's music is free from labels and isn't a slave to the digital algorithms, making it unique and timeless! Today, at Planet Singer, we have the great pleasure of discovering more about Doddi in an exclusive interview, a jump into the bright and creative mind of a real talent!
Hi Doddi, thanks a lot for being with us today. It is such a pleasure to have the chance to finally chat with you about your music and your artistic path. But let's start from the beginning; when did you discover your passion for music and entertainment?
Thank you so much, the honor is all mine. I liked music when I was young, but when I was 13, I heard Blue Monday by New Order, and everything changed; I did not know what the Beeb was going on. That song has been the blueprint for my music vision and taste since.
Which are your main influences?
The electronic music in the '80s and '90s is my love, I fell in love with Depeche Mode when I was young, and I have loved them since, well up till 2000, they haven't been at their best since then. Jean Michel Jarre, Kraftwerk OMD and all this synth pop stuff.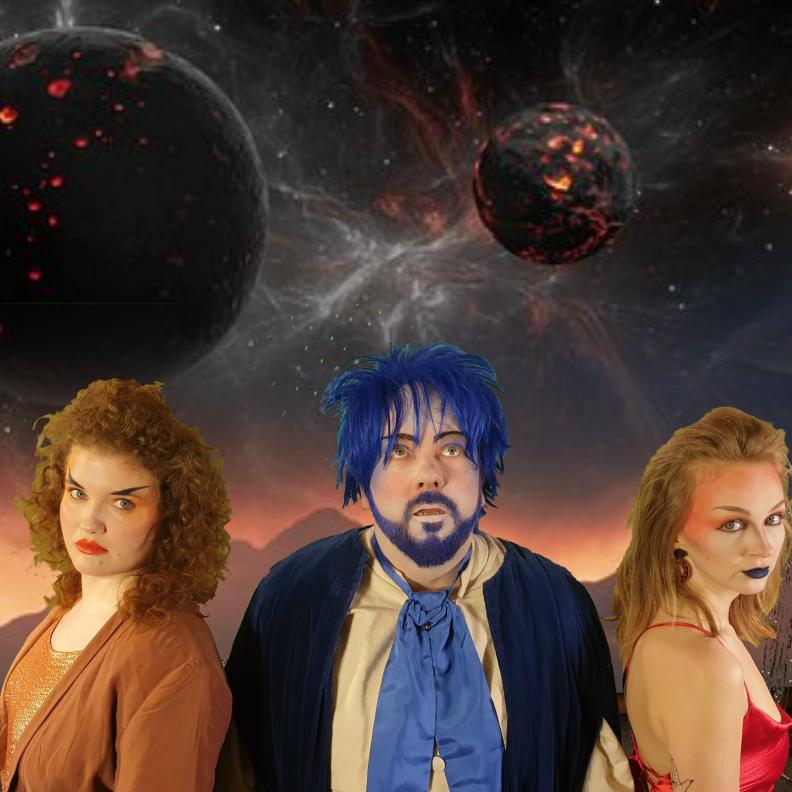 One of our first articles about your music was your duet with your alter-ego Love Guru. Where is he now? Is he with us right now? Will he make a comeback? (ahah)
I wouldn't call it alter ego, more anti ego. Love Guru is everything that I am not, full of himself, thinks he's gods gift for women, makes boring music, and is so flashy with all his bling and golden suits. So yes, he will come back this spring with another hit 🙂 Love Guru makes me the money so I can make this Doddi stuff (no money there).
You just released your latest single, Electro Love, and exciting track that catapulted us back to the 80s: the whole idea, the music, arrangement, and video clip are brilliant. Can you tell us more about this song?
The music that I'm making as Doddi is pretty dark 80's synth music (except the one with Love Guru); that is the music that I like. I just wanted to try to make an 80's commercial pop song; I wrote it like I had written it in 1984, in the middle of the cold war and people wandering if robots could take over the world. So I made this little love story about me falling in love with a robot and ruling the world, every kid's dream, right? 🙂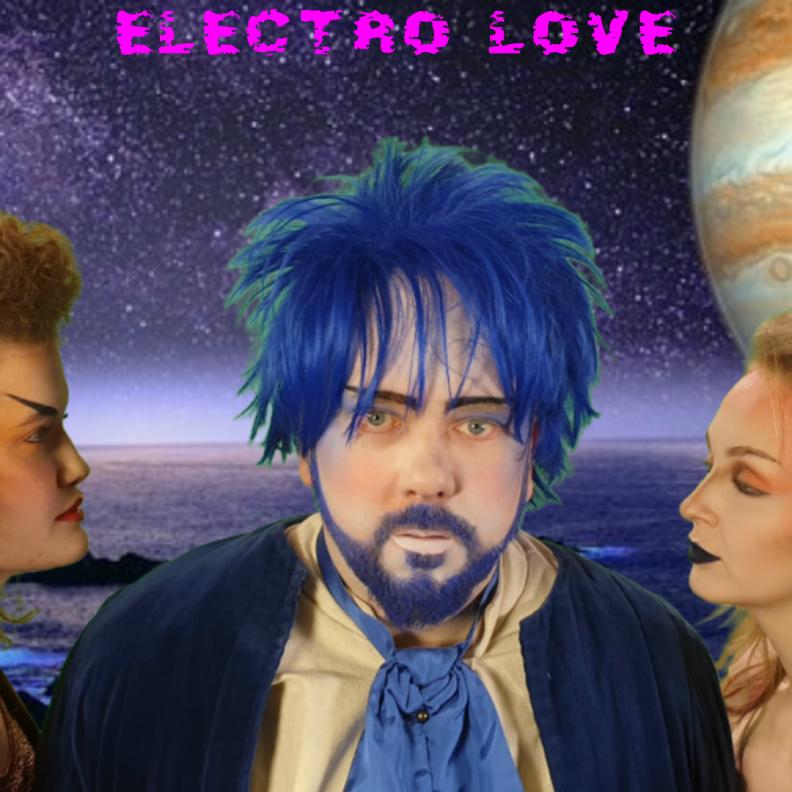 Orwell's iconic novel 1984 pictures a world pretty different from the world we live in now, yet the direction seems to be going that way. Do you think there will be a limit to be put?
I'm not sure if Orwell is far from it; he just should have named it 2020, not 1984. Robots do control the world today, but it's called smartphones and algorithms. The algorithms control everything on social media, and social media controls the world, and it's all through smartphones. Big brother is everywhere, the social media companies know everything about you, they know when you need something, and you get the ad about "special price for you, my friend."
What do you think about AI? Like the title of your song, Electro Love, do you think humans will be able to write down the code of love?
Well, if humans could write it down, we had done it a long time ago; there's more chance that AI could do it with the algorithm and social media companies.
The video clip is really fun; it incorporates many elements of the best synthpop and electro music of the mid 80s! Everything, from the makeup to the visual effects, is extremely entertaining. Who directed the video?
I do everything myself; I even choreographed the beautiful dance moves, my wife shot it on my phone (Galaxy 8). The idea for the video is to pay tribute to those old heroes of mine, the New Romantics. I can't say they were cool, but they tried, we didn't try 🙂
I didn't know the two girls in the video, they just were my friends on Facebook, and I liked their look. So I asked them if they wanted to be in the video; I hadn't even written the song when I talked to them. The plan was to make an electronic version of the Robert Palmer video, Addicted to love, but they would play some old-school synthesizers instead of regular instruments like in that video.
After they said yes, Aldís (the one in the red dress) told me that if I needed a voice in my songs, she could sing. So I got her to sing in the song, and I liked that, so she sang with me in another piece I released last year as well, Game of love. Then the other girl (the orange one), Rachel Wish, told me that she was a musical artist as well, and of course, she got her spot in the song as well. The plan was never to get a feature in this song.
Your songwriting skills are incredible. You easily pass from one genre to another, yet keeping that distinctive sound that is your trademark. Can you reveal what your songwriting process is?
Well, It's pretty cool. I don't play an instrument, and I only just started singing one and a half years ago but have still been releasing music since 2004. With Love Guru, it's pretty easy; I just make some loops in the computer and write some melody over it, and then I fill it with energy and power and get people to dance to it. Often with a chorus, I get from another song. But with Doddi, I start the same with some loop and hum some melody over it, and then I talk to my producer, N3dek from Morocco, that I've never met, and we start this dance finding the chords and structure, like in this song Electro Love, I had a really rough mix for the song that I sent him, and he had to 80's it up, he was born on mid 90's so he had no idea what 80's music was, but as you can hear, he does now 🙂 He was worked on many songs with me this past year.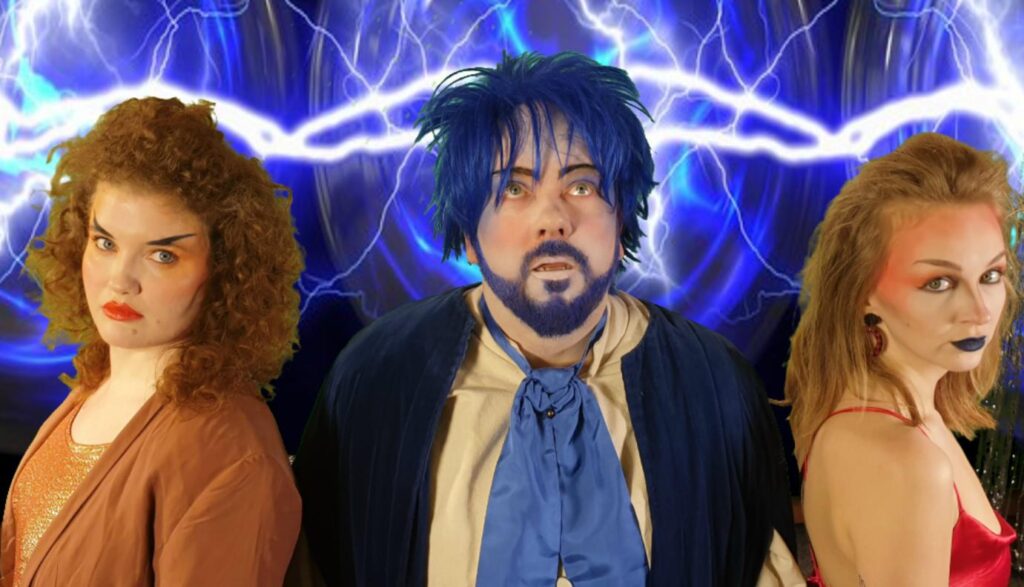 You often collaborate with artists that, in many cases, are part of your circle of friends. Talent and heart go at the same pace, and it reflects in your songs. Am I right?
Well, I'm lucky; most of the people I ask say yes when I ask if they want to work with me. It's not just my friends, like with Aldís and Rachel. I had never talked with them before I asked them to be in the video. I really can't explain why they work with me; it's not the money, I can promise you that.
If you could feature one of your idols in one of your future songs, who would you like to work with?
I would always want to get Elisabeth Frazer (Cocteau Twins) to sing one of my songs. She has the best voice in the world.
Do you listen to mainstream music? What do you think about the contemporary music scene, both worldwide and in Iceland?
I have to since my "real job" is as a radio show host. I host the morning show on the national radio here in Iceland RUV. When I come home, I don't listen to the commercial stuff; I listen to more strange music, more difficult and dark. My playlist is full of musicians I know nothing about, just something I pick up on Spotify; if I like 10 sec of the song, it's on the list. It's mostly dark techno, ambient, and deep house, and then I always have the 80's and the 90's.
You worked for many years in radio. Do you think this contributed to and/or influenced your artistic path?
It really has some influence on what I do as Love Guru; with that project, I try to make young people music, but I really can't, so it sounds pretty funny. With Doddi, it's all about the music that I used to love, so I have to answer yes and no.
What are your projects for the future? Maybe a full-length album?
This Doddi thing is just something I wanted to do since I was a kid; I'm releasing an album this spring called "Last" because it will be my first and last album, just to get it out of the system. Maybe I will throw in a song or two in the future, but to get a following today, you have to release constantly, or you will be forgotten tomorrow. I like making the music, but I hate so much the promoting part; I just can't do it, so that's the main reason I'm making this one album. But It's going to be a pretty good one, so it's all good. I'm pretty sure I'll throw in some Guru stuff in the future, just to remind people that He is alive and get some gigs 🙂
It was such a pleasure having you with us today, and we can't wait for your next release. Is there anything you would like to say to our readers?
I just want to thank you for the opportunity to speak to your readers, and I hope that 2021 will be a great year for you all. It's always going to be better than 2020!
Check the links below, discover more about DODDI, and don't forget to add His tracks to your favorite playlists!
Learn Singing, Piano and learn how to MAKE MONEY with your Music! Check these out!