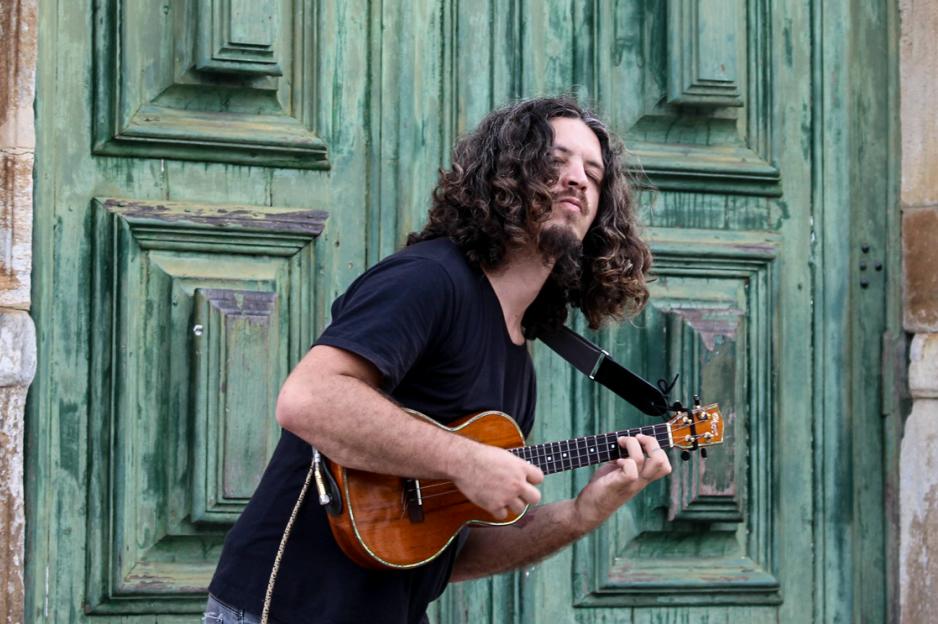 Today at Planet Singer we had the great opportunity to interview a unique talent. João Tostes is a tasteful musician whose style is immediately recognizable and thanks to his artistry he is able to impress and amaze since the first notes he plays. João Tostes, originally from Brazil, is one of the biggest and most appreciated ukulele players, that surprises both for elegance in his playing and also for his incredible versatility with his instrument. We had the big pleasure to interview him and discover more about his past and his new upcoming album "Live Ukulele Here, There & Everywhere", out on March the 16th, 2020.
Here it is. Our exclusive interview with João Tostes!
Hi João, thanks a lot for being here today at Planet Singer. Let's start talking about your early years. How did you discover your love for music?
It's very nice to be here, sending aloha feelings to all Planet Singer staff.
Since I was a kid I used to watch my uncle Tião and my grandpa Francisco playing the acoustic guitar. They were always playing successful and beautiful Brazilian songs and I was always delighted. I was 4 or 5 years old and they didn't give me the opportunity to play their guitar – of course, probably I would have broken its strings and so on. But there was already a dream: to learn how to play and to offer happiness through music to people everywhere.
You started with acoustic and then electric guitar. How did you fall in love with the ukulele? Was it a natural process?
Actually, I fell into the ukulele world by accident. A beautiful accident. A friend of a friend went to my home when I was a university student (believe me, Telecommunications Engineering) and asked me to teach him a song on his brand new ukulele. I didn't know how to play – I even didn't know the tuning, but he and my friend insisted and they gave me some time to try to learn the song.
During some lamen and beers, I just made it and learned how to play the song. When I was going to teach him the song, he said that he was a beginner and he was going to need months to learn. So he asked me to record it. I did 2 recordings: one just playing and another one trying to teach that amazing instrument which I still didn't know the tuning and also why oh Earth it had a thin string on top – so different from the linear tuning we are used to on the guitar.
Job finished and I asked him for a pen drive or memory card to save the recordings. – "I don't have any", he said. "Please send it to Youtube".
Of course, other people watched the videos and they started asking me about the ukulele model, also asking to record other tutorials and ukulele stuff, sending many messages with positive words and that just encouraged me to make a channel on YouTube. But it happened in 2010 – and I've started the ukulele channel (called Toca Ukulele) just in 2015.
So it was needed 5 years to put it into practice. During this time (2010 to 2015), I started to use the ukulele in local bands, for harmony and solos, in the studio and live, experiencing many situations and internalizing solid knowledge. Soon I started to be fluent and to understand the instrument idea and to spread all my musical feelings to the amazing and magical 4 strings instrument.
You're an exquisite musician and one of the biggest exponents in your genre. Where do you find your inspiration? What are your favorite artists?
I'm a Pink Floyd lover and a big fan of David Gilmour. The quality we see in his works, the song details, everything he does is a great inspiration to me. But as a Brazilian, I must say I'm so inspired by our local culture and I love Chiquinha Gonzaga, Antônio Carlos Jobim, and many Brazilian composers, musicians, and groups.
In the ukulele world, I have big heroes like Jake Shimabukuro and Kimo Hussey. By the way, Eddie Vedder is also a great inspiration to me not only because of his "Ukulele Songs" album but also because his entire career – I am a rock guy and I will always be.
It's also important to say that I've studied with amazing musicians such as Ian Guest (Hungary) and Gilvan de Oliveira. Also, Brazilian Music Masters such as Nelson Faria and Mozart Mello recognize my musical works through the ukulele.
Do you feel different as an artist from the João of your preview albums?
Yes, I really do. The album is a historical mark in my life and career, because of many reasons: it has recordings from almost all the countries I played in the last 4 years. It also celebrates the 100k YouTube followers – which is awesome for an independent artist who plays the instrumental ukulele. It's a compilation of important moments, each song and place has its own story with relevant meaning. It includes cover and original songs and also thinking about the next work I'm already working on, it's a watershed.
Your new album "Live Ukulele Here, There & Everywhere" is out on March the 16th, 2020. We had the pleasure to listen to it and it is a work of art. Can you tell us more about it?
I'm always trying to record my live shows and guest appearances. I lost my footage from the live shows in the Czech Republic when I was there for the 5th Czech Ukulele Festival and ever since I'm trying to save as many audio/video as I can.
So last year (2019) my wife Carol Campos was producing my "Live in Italy" album with me and she found out that I had too many live recordings unreleased and told me that I should think about it. Quickly I said the album name and as soon as Live in Italy was published we started to work on Live Ukulele Here, There & Everywhere.
Sometimes I don't have an audio quality as I would like to, but I have that audio and it gives me an opportunity to share it with the ukulele community and my fans. So the songs inside this album were captured in different ways – from iPhone to handy recorders and sound table. I am fully aware that it would be better if everything was recorded in high-quality equipment, but not always it was possible according to the country I was and the situation at that moment.
The album talks about it as well, how things happen, how we can evolve from the past and from experiences that we have in life, how to think in a different way for the same situation and better solve a problem and things like that. Taking care of the live recordings – memories that can be used to immortalize special moments, is a thing that we should think about every time we are going to play, no matter where.
And here are my memories, the results of a dedicated life for the instrument that is my passion, the ukulele.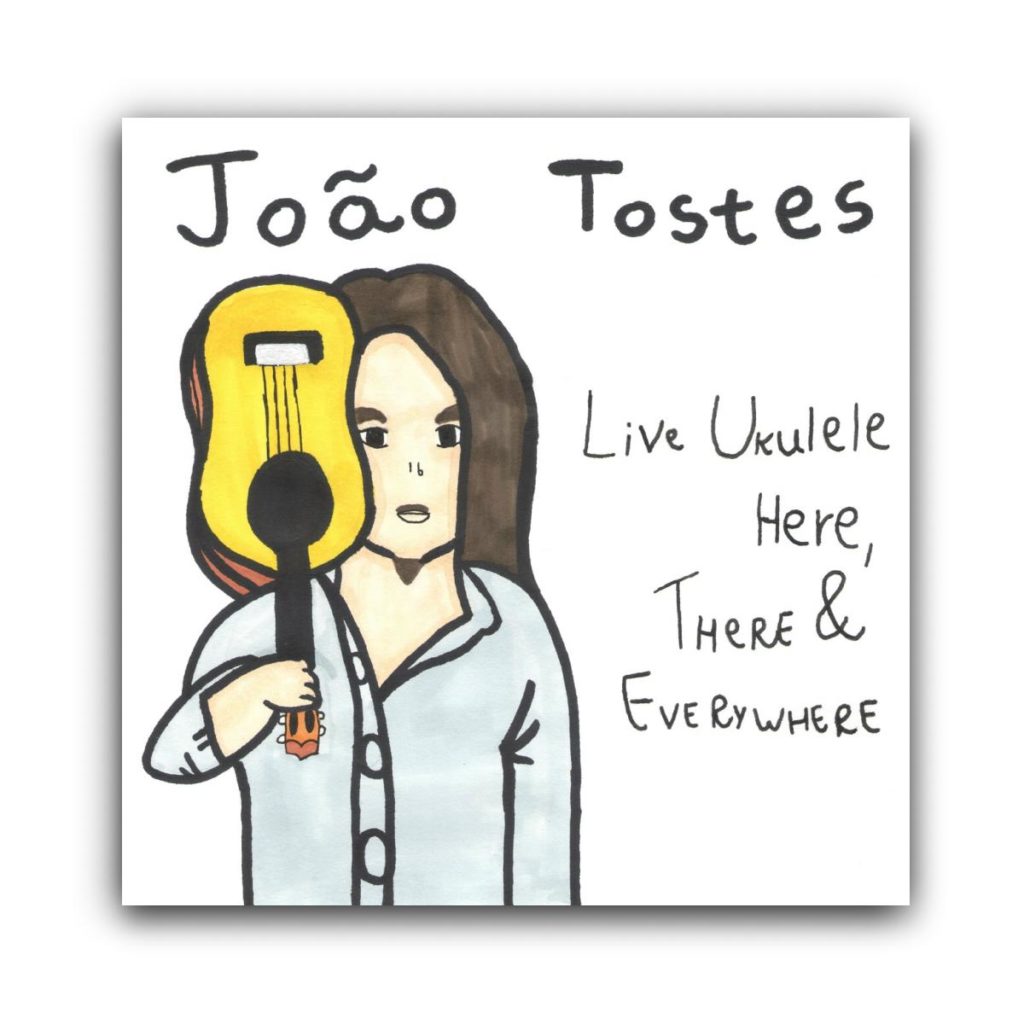 I have to say, you did an outstanding job on your Queen's "Bohemian Rhapsody" cover. Queen is one of my favorite bands and your version is fresh and authentic. You have been able to captivate this masterpiece and make it unique with your playing. Can you tell more about the process you went through with a song like this?
I just love this song and this is an original arrangement from Jake Shimabukuro – a ukulele Master from Hawaii that is "the name" on the ukulele, the big world authority. He is largely responsible for the great popularity of the ukulele in the world, and an inspiration to me. So I learned how to play his version, then I added my personal way to play, my spice and started playing this marvelous song.
Not only talking about Bohemian Rhapsody, but I really enjoy many other arrangements Jake creates for ukulele. Looking forward to having an arrangement of my own recorded by him. I already have many good ideas, maybe in the near future, maybe a Brazilian song, I hope so.
Is there a song from your album "Live Ukulele Here, There & Everywhere" that has a special place in your heart? Any track you enjoy playing live more than the others?
First, let me say that the album cover was just designed by my 10-year-old son, a sensitive and extremely intelligent boy. The song called "Sete dias te esperando" (in English: Seven days waiting for you) is a very special one in the album, it's in honor of him. I have a situation of shared custody and at the time I composed the song, he used to live for one week with me and one week with his mother (nowadays the period is 2 weeks). He never wants to go and of course, I don't want to let him go, but while he's opinion is not considered by the Judge I should respect. We are working on that. But there are times that I miss him so much and one day, in a very bad mood, I just composed the song that means how I feel when I miss him – which is too much and I think I'll never get used.
The song is present in both volumes, live in Vancouver (Canada) in 2017 and Seoul (South Korea) in 2018. This is the only song I played in every country I visited, every trip.
Another one that is very special is a song called "Hiro", who was a baby that passed away when he completed 2 years old, on the day of his birthday party. He was the son of friends.
Despite there are a lot of details, I was at the hospital when the news of his passing came and it was terrible. When I came home I composed the song – a lullaby and when talking about this song I always say that it's a song for children to sleep.
It's too difficult to play this song live. I even have problems to rehearse it alone. I'm not talking about technical skills, but it's quite emotional, that's why it's hard for me to play it.
In your album there are some special guests, all of them are great artists. Sometimes it is hard to find the right feeling but I can tell that with the musicians you work with there is incredible chemistry. How important is it for you to share your music with the right musicians?
I'm so lucky, really. One of my best friends is Diogo Fernandes, the awesome guy who plays bass in my songs – or even in his own songs because he's also composing for ukulele. So we are always together, working or chatting about work, also playing and rehearsing. He's very important in my musical and personal life and he's always present in my greatest moments.
Felipe Moreira was my professor when I studied music at Bituca – Universidade de Música Popular (Bituca – Brazilian Popular Music University). He teaches piano, keyboard, joint practice, and musical perception. A few years after I graduated in guitar, we started to play together and to share our music in local shows, and we had the great opportunity to be on Italy in 2018 playing our original and some cover songs – a live show that culminated in the album "Live in Italy".
By the way, when in Italy playing as João Tostes Trio (Diogo, Felipe and me), the whiz kid Rio Saito from Japan played a song with us. Rio also lived in Hawaii and took classes with great ukulele Masters such as Kalei Gamiao. Not only this song marked our history, but I have to mention that we stayed together for some days in Vicenza and it was a great time. We are just waiting for him in Brazil, maybe to participate in some edition of the Brazilian Ukulele Festival, which I'm lucky the organizer.
Vinícius Vivas is a fantastic musician and Ukulele Master from Rio de Janeiro. A great partner that I had the chance to play the ukulele together in 3 different continents – and counting. When you talk about chemistry, I must say that musically it looks like we were born for each other because it's simply magical. The music happens and that's it. I'm so proud and honored to live such a great experience.
Jonas Loi is a great friend and amazing ukulele player, from São Paulo. He is always helping me with "Toca Ukulele" stuff and planning new ideas, helping to manage ukulele groups by taking information to beginners and interested people. He plays the ukulele so fast that it looks like he has a rocket in his fingers. The only unreleased song in this album is a collaboration with him – Ashes is a song that he composed the harmony part and I got my place in the melody line. It was live played just once and this is the recording available here.
I must say one more thing: the woman behind me – my beloved wife and favorite singer Carol Campos has a fundamental role in everything I do and I want to register that – even she is not on the album recordings, last year, for instance, we went to play in some gigs and she did very great playing the instrumental ukulele and supporting me on stage. You see, I have the right people in the right moments. Thank you, darling.
So now I think I can answer better: the right musicians can change your life forever. And I'm so lucky and happy to cross lines with those amazing guys, I'm so grateful to each one of them.
Any artists you would like to collaborate in the future?
Oh yes, for sure! I have a new project just starting, it's a secret yet but it's going to be surprising even for my fans. It's a very big name on music history and a big honor to me, so excited to spread it soon all over the world.
Now talking about some names in the ukulele world, and as a big fan of Jake Shimabukuro, I'm always thinking about possibilities and ways to do something with him. I hope I have a chance someday, and I feel the same with Eddie Vedder, perhaps a ukulele collaboration – it would be just perfect.
Another desire is to be together with David Gilmour on stage. This is more like a dream but is something very strong in me.
Are you planning to go on tour?
Yes, I have some plans to travel inside Brazil, playing in some States Capitals and also introducing ukulele workshops during this year. Our 4th Brazilian Ukulele Festival will take place in September (5th and 6th), and after that, I'm going to play in some important venues with my new project (remember, it's a secret yet!).
At the beginning of 2021, I'll be in the USA for a small tour around California. Other dates and countries yet to confirm.
What are your plans for the future?
The trip to the USA is about it: I'm going to release a new studio album and the release show is planned to be there. The upcoming new studio album will show some different ways to think about the ukulele. I'll continue playing some solo and acoustic songs, but I'll explore some effects to create unique sounds and the news is that it's a concept album. That's why I said that Live Ukulele Here, There & Everywhere is a watershed: rememberings from the past, original and cover songs, old repertoire. From now on, new arrangements, ideas, and gear.
I'm also writing some ukulele books. The songbook with all songs (tabs and standard notation) of the naturæ album was launched in 2018 both in Portuguese and English languages and is available worldwide through Amazon. This year I've already published a new one in Portuguese, and I'm finishing to translate it into English. It's a comprehensive and experience-based chord dictionary for ukulele. It's not like an app you ask for a chord and it indicates one randomly to you. It has chords that I use every day to play, record, make arrangements and so on, so it's real. I'm not telling that app chords are wrong – I'm saying that the chords I'm showing are used in real music, they aren't just images.
There is another new book for the next semester, both languages again. I'm planning a couple of books in some years.
I have also a new and exciting surprise to announce soon, but this one I just can talk about when I "arrive there". It's something I'm preparing with much care and love with Ohana Ukuleles, one of the companies that endorse me (the other one is the Italian Aquila Strings, which are also on the game). Hold on!
It was such a pleasure to have the chance to know more about you and your music João, we can't wait for your album to be finally available and to listen soon to your future works!
I really enjoyed our chat and I am very grateful for the space and opportunity to talk a little about my career, work, partnerships, meanings… It was really cool, thanks! I hope to be here again soon talking about the next studio album (wow, I almost revealed the album name! LOL… This is just one more secret.).
I also want to thank you in the name of all the Brazilian Ukulele Community, artists, and enthusiasts, for providing such a special place for this interview.
Of course, thanks to all my fans and family that make things like that happen – one more album, one more time together.
I hope to see you soon and uke on!
Discover more about JOÃO TOSTES and his amazing music here!
Share it with your friends!