It is so exciting to have the chance to interview young talents, and it is quite rare to find one that has a unique style and explosive artistry. Today's interview with OTric allowed us to know more about this multitalented young artist!
OTric is a Boxer and a Multitalented Artist. He originally started in 2014 as a Youtuber and recently hit 1,181 subscribers. He started doing gaming videos on Minecraft, and music in 2019, releasing hits such as "Sorry", "Devon SandWich", "Clean" and "Johnny Sins"!
Here it is, our exclusive interview with OTric!
Hi OTric, thanks a lot for being with us today at Planet Singer! You are so young but also very talented, how did you discover your musical skills?
In 2019 I got into an online internet beef with another YouTuber named Sparlsmaster, however, he dropped a diss track on me which I wasn't expecting, and everyone assumed I wouldn't respond. I did. It wasn't the best but it was my first attempt at ever being in the music scene. From then I leveled up more and released "Waffles", in March, around 3 months after my first song, "Zeus".
OTric, tell us what is behind your artist's name.
OTric is a shorter term for "OyerTric" Oyertric is a weird name (lol), but the oyer part in it means "Oi", which is an Australian term. The Tric part in it is just meaning I'm a trick Because I troll and trick a lot of people.
Your song "Sorry" is very deep, can you tell us more about this track?
"Sorry" was made with my friend Alisha. It was dedicated to my mother, to tell her I'm sorry for disrespecting her. She has helped me with so much and all I have ever done is degrade her for some of her choices, I don't know if I'm supposed to be saying this but I wanted to be authentic and tell the truth.
Your writing is very modern and interesting. Songs like "Devon Sandwich" keep the listener engaged since the first lines. How did you come up with such a song?
Well Hahaha, to be honest, I always joked about rapping, and never in my life I would turn into a serious rapper, so I just made joke songs, I was eating a Devonsandwich and just thought in my head, "Well I did Waffles F*ck it, I will do a sandwich song."
You collaborate with lots of artists, how important is for you to find the right chemistry with these artists? Do you follow all the steps of the production or leave some space to the artists you work with?
The chemistry, well it's important to me. With "Waffles" and "DevonSandWich", I didn't care about the features, I just did them to have fun with friends. Ever since "Sorry" it has turned serious, I honestly don't listen to feature ideas, though I should. I just don't. After all, it's my song, I'm probably gonna start listing more then I did before from now on.
Are you planning to make an album in the future with these tracks?
I released an EP with the songs I've made so far. I'm not planning on releasing an album anytime soon, definitely, not with the songs I've released so far Ahah, I will have to improve a lot more before I even think about that.
What are your favorite artists?
Here are 5 of my favorite rappers.
1. KSI – Mainly because what he stands for is motivational. I've been following him for 5 years now and he's improved so much since the start.
2. Kendrick Lamar – This man is a serious go*t. Though I don't like
what he stands for, I appreciate his music and talent.
3. DAX – This man is seriously underrated. He is slept on and deserves a lot more attention then he gets.
4. Jay Z – What is there not to like about this guy, Cmon.
5. Eminem – This man is overrated but is talented af. I don't like his voice when he raps but he for sure can rap.
What are your plans for the future?
My plans for the future? Damn, I haven't thought that far ahead. To be honest, I don't think about the future. I think about the present because the more you think about the future the more brings your head over the clouds, focus on now not the future!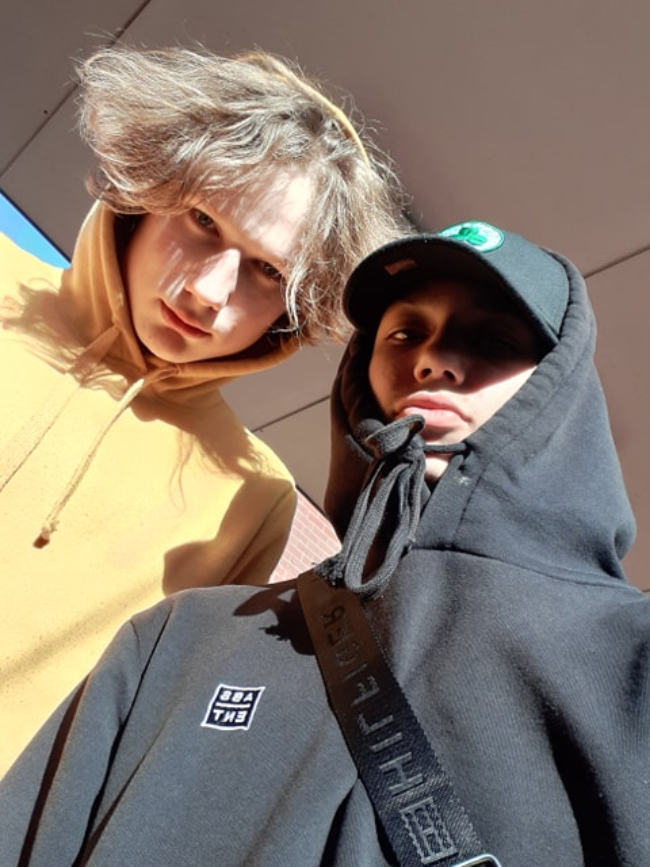 You are Australian, what do you think about the Australian music scene, especially in your genre? Any favorite artists?
The Australian rap scene? Damn, I honestly think it's trash. They're talented don't get me wrong, but I hate the Australian accent! I don't think it goes well with rap. Not only that, the words got enough drug problems, we can't have kids' heroes constantly rapping about weed and drugs. So many Australian rappers just talk about f*ck*ng their "ho*s" and drugs! That ain't my life fam, I ain't about that, I'm not gonna call out names.
It was such a pleasure to have the chance to interview you OTric, we wish you all the best for your music!
Thanks for hearing me out and giving me the opportunity for this! I'd love to work with you again! Thanks for everyone reading this, have a good day, and God bless!